National Apprenticeship Week 2019: Our AOO, Bethan Watts shadows our Savills apprentice, Arlo Francis in London
Posted on: 6 March, 2019
To celebrate National Apprenticeship Week, we are sending out four of our Apprenticeship Outcomes Officers (AOOs) to shadow several apprentices throughout the week.
The shadowing opportunities will provide our AOOs with a different perspective of the challenges and workplace experiences our apprentices face alongside their studies.
First to step up for shadowing duty was Bethan Watts, who on Tuesday, visited Savills in London and shadowed BSc Building Surveying apprentice, Arlo Francis.
Here, she tells us about the experience…
It was a really good day. We first went to South Kensington where three shops are being knocked into one property for a high-end furniture retailer. Savills is surveying the work there.
The ground floors of the three properties are at different levels which poses a challenge. Savills is undertaking surveys of the properties, before working on the first phase of the project which will be creating one shop front and making the ground floor one level, before adding a staircase on each side of the building into the basement. Savills will be looking at mitigating any issues that may arise from the work such as party wall issues, potential for cracking in the above flats and shoring up the foundations.
The surveyors on-site on the day I visited were looking at the drawings and ensuring that the measurements were correct. It was very interesting to see the different properties as they are quite different, with one still trading and the others empty.
We then went to Victoria to look at the basement in a large office complex. The building has a 1960s concrete structure which was revamped in the 1990s and extended. It was very modern from the outside but has problems with water ingress where the extension meets the older part of the building, resulting in dripping in the basement, most notably in the boiler room.
Before Arlo's team came to survey this site, there were a series of drip trays that were being used but were not dealing with the issues. Arlo helped survey and map the existing drip trays, and then a new series of drip trays with a pipe relay that fed the water away to an outlet was devised and installed.
It was fascinating. My only experience of building surveying work had been on the house I had purchased so to see it from the commercial perspective was very different.
Arlo's work is a mixture of office work and site visits. The site we visited in Victoria was one of the first surveys that Arlo had been involved in and has seen the improvements within the building from the work they have done. When Arlo joined Savills six months ago, his director said the building in Victoria was an interesting one to see because it evidences that buildings can be completely different on the inside from what you see on the outside.
Arlo said he is enjoying his apprenticeship so far and says that no two days are the same.
Overall, it was very interesting to get a flavour of what our Building Surveying students are doing in the field. I was able to ask questions about his work and it gave me a greater understanding of the type of work that our students are undertaking. I thoroughly enjoyed my time shadowing Arlo on his site visits.
There was also the opportunity to quiz Arlo about how he is finding the apprenticeship so far…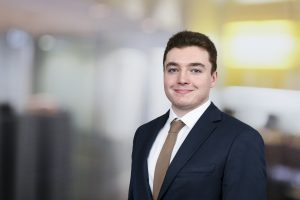 How's the apprenticeship going?
"I am greatly enjoying my apprenticeship so far and experiencing a great deal that I would not have had access to through a conventional degree course. My day-to-day tasks vary greatly, allowing for a sound grasp of the protocol that facilitates an inspection, as well as the reporting process itself."
How do you find studying with UCEM?
"The flexibility afforded by the remote learning is allowing me to tackle my degree course at a rate I feel comfortable with – spending as much time as I need on non-technical topics I may not have encountered through work at Savills, and balancing this with subjects I am more familiar with from my involvement in the Technical Due Diligence team."
How have you been assisted by your AOO?
"It is reassuring to know that my Apprenticeship Outcomes Officer is always there to support me should I need any assistance during the learning process. The direct contact with the AOO makes it is straightforward to raise concerns or issues and have them dealt with quickly."
What are your ambitions in the sector?
"Once I finish my degree, I hope to become chartered as soon as this can be achieved. In my longer-term career, I hope to develop in-depth knowledge of chosen aspects of building surveying so that I can offer specialist support to colleagues."
Thank you, Savills for arranging this opportunity, and to Arlo and Bethan for taking part.
To learn more about our apprenticeships, visit www.ucem.ac.uk/develop-talent-for-your-business/employing-an-apprentice/, and to learn more about the work our AOOs do, visit www.ucem.ac.uk/news-events/blog/introducing-our-apprenticeship-outcomes-officers/.
Remember to keep an eye out for all our National Apprenticeship Week activity on our Twitter, LinkedIn, Facebook and Instagram channels too!