National Apprenticeship Week 2019: Attending an apprenticeship workshop. Guest blog by our Events and Communications Manager, Hannah Peck
Posted on: 8 March, 2019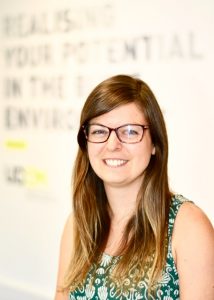 On Tuesday (5 March) I spent the day in London at one of our Surveying Technician Apprenticeship workshops. In my job as Events and Communications Manager I don't often get to speak to apprentices face-to-face so it was lovely to be able to spend the day with some of them, particularly during National Apprenticeship Week.
I started off the morning with Apprenticeship Programme Delivery Manager and Tutor, Andy Dodson and 18 apprentices learning about construction technology. It was great to see that Andy knew all the apprentices by name. Despite being an online university, our tutors ensure they get to know individual students and I was glad to see this in action.
Andy spent time recapping what the apprentices had learned on the Virtual Learning Environment (VLE) by getting them to ask each other questions relating to the subject. I have to say, I never thought I'd learn so much about building foundations and Japanese Knotweed in such a short space of time!
The apprentices were then put into groups and given a case study to research and provide feedback on. This particular case study was one that Andy had worked on during his time in the Royal Engineers. It meant that the students could ask him additional questions about the project and he could answer them with a lot of first-hand knowledge.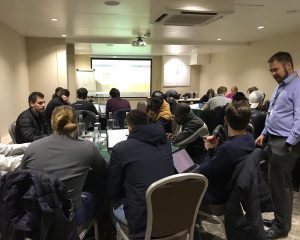 The session finished with Andy asking every student to share something that they had learnt during the session.
After a short break, I headed over to UCEM Tutor, Mike Frank's session on sustainability. This is a topic that I'm passionate about so I was looking forward to it. Just before the session started, Sarah Keen, one of our Academic Programme Support Tutors spent some time reminding apprentices about the support she is there to give to them. Sarah's role is to support apprentices with any additional academic matters that they require help with. For example, if they need one-to-one support with Harvard referencing or need to learn how to write part of an assignment more concisely, the Academic Programme Support Tutors are the team to go to.
Mike started his session by sharing some alarming statistics about the reality of climate change and explaining that working in the construction industry means taking personal responsibility for our environment. He then spent time discussing the role played by the Environment Agency and local authorities, helped by one of the apprentices who is currently working for Hackney Council.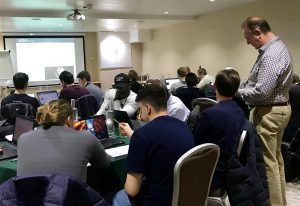 Mike ended the session by showing apprentices a video of a Building Information Modelling (BIM) model of a project he worked on previously as a Chartered Surveyor. BIM allows you to look at a building project in its entirety before anything is built. Amongst many other things, it means that building materials can be costed and the right amount ordered to eliminate waste.
Unfortunately, I had to leave the workshop straight after lunch so missed the last session by Tutor, Ned Umeokafor on law, regulations and health and safety but I did speak to some apprentices who were in that session in the morning and they told me they had learnt about health and safety guidelines, what to bear in mind when constructing a building and who is responsible when something goes wrong.
Overall, it was a great day and my highlight was speaking to Ray who told me how this apprenticeship was 'teaching an old dog new tricks'. After 21 years in the RAF and a number of years working for the Defence Science and Technology Laboratory, HM Revenue & Customs and the Department for Work and Pensions, he now works with the Defence Infrastructure Organisation and is using this apprenticeship to further his knowledge within his role in the Estate Facility Management Team.
To find out more about our apprenticeships, visit www.ucem.ac.uk/develop-talent-for-your-business/employing-an-apprentice/.
There has been plenty of activity in support of National Apprenticeship Week on our Twitter, LinkedIn, Facebook and Instagram channels so take a look at them for all the latest.