My life in the built environment: Guest article by our construction management programme leader, Christine Gausden
Posted on: 21 July, 2021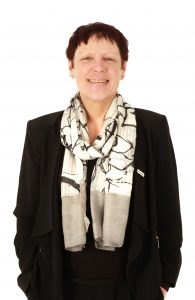 Early interest
I wished to be part of the built environment from a very early age, quite literally pre-school, from the age of four.
I was interested in buildings, most particularly the proportions and architecture of buildings. I would always be drawing – technical drawing with a set square and ruler – and with limited knowledge of the various career options, I thought I would be best suited to architecture and wished to be an architect.
Move into the construction management specialism
As my early career progressed, I studied architecture, building surveying and construction management as a part-time student and I realised my personal skillset was better suited to construction management; I was a good leader and communicator, and I was also very good at organising people and projects.
Career so far
I have been working in practice across several decades. I describe myself as a 360 project manager, construction manager and facilities manager as I have worked as a direct employee for clients, consultants and contractors within both the public and private sectors and I have also worked for substantive organisations and SMEs. I therefore have a rounded perspective.
Clients and projects have largely been London-based, however, I spent three years working in the UAE from 2008-2010.
I have been working as an academic for 10 years. I have a Postgraduate Certificate in Higher Education and a Master's in Education where I undertook research in employability within the built environment.
I am a UCEM alumna. My time studying with UCEM saw me purchasing study notes and attending the summer schools over a three-year period when undertaking the RICS Building Surveying professional exams.
Why academia?
Whilst working in practice, I was a regular CIOB volunteer and STEM ambassador, and I still am. I visit schools, colleges and universities, providing information as to careers in construction and undertaking CPD presentations to the wider industry and colleagues as to best practice initiatives.
I 'buy into learning' so academia was a natural progression, permitting me to share my knowledge and experience with future generations.
The ability to leave a legacy is fundamental to a career in the built environment, providing and maintaining assets for future use. Academia, therefore, was a natural progression, to likewise leave a legacy, helping future generations in their journey to pursue a career within the built environment.
Our construction management programmes
UCEM modules provide students with academic theory together with current best practice as adopted by industry, and enable students to explore, research and apply their knowledge as their studies progress.
A qualification in construction management provides a plethora of career opportunities and UCEM, in particular, enables students to study and work concurrently, effectively experiencing the best of both worlds.
Whilst UCEM tutors are academically qualified, all have substantive experience as practitioners, and they, and the various support teams, seek to guide students in all areas of their studies.
For more on our postgraduate programme, head to the MSc Construction Management webpage.
For more on our undergraduate programme, head to the BSc (Hons) Construction Management webpage.