My life in the built environment: Guest article by David Hunt, UCEM's access and transitions programme leader
Posted on: 28 July, 2021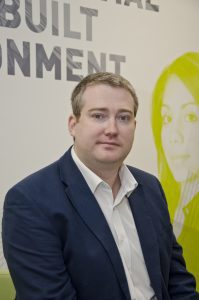 Early interest in real estate
I wanted to do a job where I would not be stuck in an office all day. The big attraction of real estate when I was around 18 was that I would get to go out on site and do property inspections.
It was the idea of having a job and not being confined to an office which was interesting, so I went to Paisley University [now the University of the West of Scotland] and did a degree in real estate management.
The attraction of that course was that they offered a sandwich year – the third year of the four-year course – where I got practical experience with a firm of chartered surveyors and got paid for my work there.
Career
My first graduate job was with the Valuation Office Agency (VOA) which is part of HM Revenue and Customs. I was a graduate surveyor in the VOA's Manchester office. Later, after becoming chartered, I worked at the VOA's London support unit in Huddersfield and worked on lots of properties in Camden, including defending my valuation figures at tribunals.
I had a long-term interest in working in Central and Eastern Europe since I spent two summers teaching conversational English at a Romanian summer school, where I had an opportunity to backpack through the region. Soon after becoming chartered, I found a job with DTZ in its Kyiv office. I spent almost four years in Ukraine before taking a year off, which I spent in South America. When I returned to Europe, I found a job with Cushman & Wakefield in Romania and, after two years, I moved to Warsaw for a role in its Polish office. I then took another career break to complete a Postgraduate Certificate in Russian Language at the University of Glasgow and it was here that I developed an interest in academia.
During my time in Eastern Europe, I completed a Postgraduate Diploma with UCEM, therefore, when I saw the advert for a tutor role here, I didn't hesitate to apply. That's what brought me here and brought about my leap into education from industry.
I joined as a tutor on valuation modules and now, I am access and transitions programme leader, responsible for the BSc Access Module and Postgraduate Access Programme.
I have done valuation work in Ukraine, Romania, Poland, Slovenia, Latvia, Bulgaria, Moldova, Kazakhstan and Russia. One of the great things for me about being a chartered surveyor is the opportunity to visit these countries; places which are off the beaten track and not common tourist destinations.
When with DTZ and then Cushman & Wakefield, I worked as a senior valuer, then associate director and finally the co-head of valuation in Ukraine and Romania.
Reflection on career to date
I have experienced some amazing things and I still feel I will experience more in this profession. I have had the chance to live in many interesting countries which has fitted in with my personal aspiration to travel and learn new languages.
Opportunities within the built environment sector
People will always need buildings. It's one environment where your long-term employment prospects are good. I believe that jobs in this profession will evolve with technology rather than be replaced by it. It's a good long-term industry to be in.
People skilled in many disciplines can be accommodated within the sector, whether academically minded, technically gifted or possessing great social skills. The built environment sector is vast. There is a place for everyone within it.
Studying with UCEM
Our degrees are very highly respected and, wherever I have worked, I have always met people who have studied with us who are local to that particular place.
The membership of RICS and CIOB opens doors to work opportunities everywhere. Our programmes are accredited to meet international standards.
BSc Access Module
The access module is an excellent gateway to UCEM's main disciplines, whether in building control, building surveying, construction management, quantity surveying or real estate management.
It covers relevant technical skills that will prepare students for undergraduate study and taking one initial semester will allow students to experience online study at a higher level, before committing to a full Bachelor's degree programme. The programme is also unique in that it features additional dedicated study support that helps students adapt to university study.
Postgraduate Access Programme
The Postgraduate Access Programme provides a route into postgraduate study for potential students who did not quite meet the entry requirements for our Master's programmes. Successful completion of it will qualify students to transfer onto one of our MSc degrees.
You study one module from the final level of one of our BSc (Hons) degree programmes which will help you demonstrate the critical evaluation, analysis and enquiry necessary to prepare for postgraduate study.
Students receive extra support which gives them the study skills and confidence to make the next step in their academic journey.
David has more than 10 years' commercial real estate experience, both in the UK and Eastern Europe. In addition to his BSc in Real Estate Management and his PgDip in Property Investment, David has completed a PgCert in Russian Language, an MA in Education, and an MLitt in Viking Studies. He is a Fellow of the Higher Education Academy and a Member of Royal Institution of Chartered Surveyors.
For more about the BSc Access Module, head to the programme webpage.
For more on the Postgraduate Access Programme, head to the programme webpage.