My life in Construction Management: Guest blog by our MSc Construction Management Programme Leader, Dr Afolabi Dania
Posted on: 16 July, 2020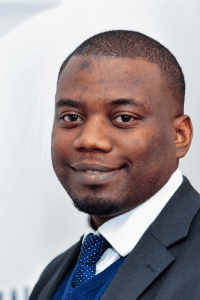 Studies
I grew up surrounded and influenced by a lot of people who worked in the construction industry. I have always been fascinated by the Built Environment, construction plant and equipment, and the sights and sounds of construction site operations. This inspired me to enrol for a Building degree programme at Ahmadu Bello University in Zaria, Nigeria.
On this programme, I studied a wide range of modules on construction technology, building services and construction project management. This gave me the needed competence in structural design, substructure, superstructure and finishing works, hot and cold water supply, HVAC systems, vertical and horizontal transport in building and the management techniques required to successfully construct a building. And that is how my journey into construction started.
I thoroughly enjoyed this programme, especially the construction management aspects. Therefore, upon completion of my degree, I enrolled for a specialist Master's programme in Construction Project Management.
I then went on to the University of Reading where I obtained a PhD in Construction Management. Shortly after that, I began working at UCEM as a Tutor and Programme Leader for the MSc Construction Management programme.
Working life
I have had quite a mix of experiences in my career so far. In between my degree and Master's studies, I worked in industry for a short while; mostly on residential new-build construction projects, refurbishments and maintenance of commercial properties. This helped me blend the theory I had learnt in school with real-life practice which was really revealing and exciting.
Most of my working life, however, has been in academia. I secured a lecturing position in construction management while I was completing my Master's degree in 2005 and I have remained in academia ever since. I have taught modules on project management, commercial management, construction technology and research methods. I have also mentored undergraduate research projects and postgraduate dissertations on a range of topics including sustainability, innovation and project management in construction to mention a few.
During this time in academia, I have still occasionally engaged in construction project management consultancy, providing advisory services to a handful of clients and financial institutions.
Research
My career has been quite interesting so far, especially as the industry and academia mix has allowed me to view the construction industry particularly from a perspective of its challenges and skills requirements. This has played a significant role in shaping my research interests.
I have enjoyed researching how firms view sustainability and innovation, understanding the barriers to these within construction and the reasons why they might not engage with these concepts. During my doctoral study, I explored the practice of sustainability in the Built Environment in developing countries. This helped me understand the way firms in these contexts view sustainability and how positive change could occur in these countries.
I have also participated in a multidisciplinary research workshop on ecological resilience and disaster management in Brazil. My other research interests include strategic management, innovation, digital practices in construction and pedagogies for online education. Part of my role at UCEM involves leading the Property and Construction Research Centre (PCRC), alongside the Research, Innovation and Partnerships Department.
Pathways within construction management
There are lots of opportunities within the discipline of construction management, the two broad areas being: academia as a researcher and lecturer (which is the path I have taken); or in industry either as a consultant or practice in a wide range of construction management roles. This could be applying the numerous skills you possess in construction planning, procurement, sustainability, health and safety, project management, human resource and material management or even building inspections during the project life cycle.
You are very likely to find exciting, rewarding and challenging opportunities in a wide range of organisations from small and medium-sized enterprises (SMEs) to larger multinational tier 1 contractors. There are also numerous roles available with public organisations such as local authorities.
Benefits of working within construction management
The main benefit of working in construction management is that there are lots of transferrable skills that you develop and possess; an example being project management which is one of the key skills construction managers employ. Other skills that are applicable are problem-solving, teamworking, and time management.
You can be involved in many facets of work within the Built Environment. Working in construction management can be very rewarding financially with a median salary of around £45,000 in the UK, and you could be involved in a lot of exciting projects from small, simple fitout or residential projects, to big commercial developments. Some people get engaged on mega projects such as the Crossrail project, Tottenham Hotspur's stadium or the Al Maktoum International Airport in the United Arab Emirates.
Whatever role you find yourself in, you will be applying your vast array of skills and working towards helping the client achieve their project dreams on time, to the specified quality, at the right cost and sustainably too. In addition, there are plenty of opportunities to work in different countries.
Our MSc Construction Management programme
The MSc Construction Management programme at UCEM is a fully supported, online conversion Masters. It is accredited by the Chartered Institute of Building (CIOB), the Royal Institution of Chartered Surveyors (RICS) and the Chartered Association of Building Engineers (CABE). The programme is designed for people who might not have an educational background in construction; however, it is also useful to those who are already in construction but want to refresh or upskill and grow their careers further.
The modules are varied and cover the relevant competences prescribed by the QAA, CIOB and RICS. These include subjects such as construction technology, construction law and sustainability. Other modules cover other soft skills including procurement and tendering, the management of change, contract management, human resource management and financial management.
These subjects cover the entire lifecycle of a typical construction project and puts you in good stead to enjoy a lifelong career in the management of the construction of the built environment. Upon successful completion of this programme, you would also be eligible to apply for professional membership of the CIOB, RICS and CABE.
Afolabi has a wealth of experience within academia and industry, working as a freelance construction manager and consultant and latterly lecturing at the Ahmadu Bello University in Nigeria for five years before moving to Reading to gain his PhD. For more about Afolabi's programme, head to the MSc Construction Management webpage.