My apprenticeship journey so far: Q&A with our Chartered Surveyor apprentice, Lewis Denbow
Posted on: 6 April, 2021
Lewis Denbow is currently in his fourth year of our Chartered Surveyor Degree Apprenticeship (building surveying pathway) whilst working as a building surveyor in Oxford for property and construction consultants, Ridge and Partners LLP.
We recently had a chat with Lewis about how he is finding his apprenticeship and how he first landed a job in the built environment…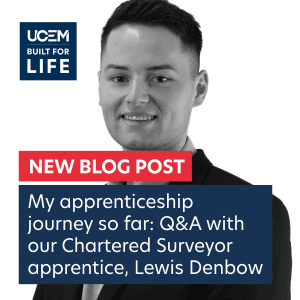 So, Lewis, how did it all start?
I first heard about apprenticeships when I was in school, but it was not until my first year of university (studying for an HNC in Construction and Property) that I discovered degree apprenticeships. I quickly decided that being a full-time student wasn't for me, so I began planning my next move. The thought of being able to study and work at the same time instantly appealed to me as I already had a couple of years' experience working on-site for a contractor and was keen to get back to work and embark on my career in the built environment sector.
Where my apprenticeship is concerned, I didn't get the job in the conventional way. I initially contacted the building surveying department at Ridge and Partners LLP, Oxford, to find out more about the job role as I was undecided as to which discipline I should study after my HNC. I was invited to the office for an informal meeting where my (now) manager showed me around and gave me some more information on what being a building surveyor involved. I expressed my interest in working for the company as an apprentice and he subsequently gave me the offer that I was looking for; It was a very pleasant surprise and certainly one that I was very excited about.
My manager recommended that I enrolled with UCEM, explaining that he had studied with them as a young professional and that the company had previously had candidates like me enrolled on their schemes. After researching several course providers, I elected to choose UCEM due to the inherent flexibility of online learning and the several positive testimonials I saw online.
How are you finding studying with UCEM?
Having no previous experience of online learning, I really didn't know what to expect. I was unsure of how I would manage studying alongside working and whether I would be able to succeed as I had done when studying full-time. Despite my initial apprehension, I was thrilled to have been given the opportunity by my employer and was excited to begin the Chartered Surveyor degree apprenticeship at UCEM.
Working and studying is definitely challenging at times – especially alongside the APC and social commitments – but it is certainly not without its rewards. I find the study material both intellectually stimulating and relevant to my professional practice, and online learning has definitely made me a more independent learner. As a result, I feel the quality of my professional work is increasing with each module I complete which in turn increases my job satisfaction. It is safe to say that I have thoroughly enjoyed my time at UCEM so far and I look forward to the challenges which lie ahead as I commence the final year of my apprenticeship programme.
What would you say are the best things about doing an apprenticeship?
The thing I like most about being an apprentice is the potential to implement the knowledge acquired in your academic study into a practical scenario at work. Often, when in a module webinar or completing a task on the Virtual Learning Environment (VLE), I will come across a topic that is directly applicable to a project or report that I am currently working on. Being able to apply new knowledge in this way not only improves the quality of my professional work, but makes the learning process much more efficient and effective.
I also like how the apprenticeship process integrates the development of my interpersonal skills along with the acquisition of technical knowledge. Working in a professional environment can be hard for young people, and it is easy to let a lack of confidence get in the way of your personal development. However, being an apprentice provides opportunities for me to voluntarily adopt challenges that increase my confidence and make me a better employee.
What next?
In the short term, my focus will be on completing my BSc (Hons) in Building Surveying and progressing through the RICS APC to become a chartered building surveyor. Upon attaining those all-important letters after my name, I plan to remain with my current employer and gain the necessary experience to progress into a management role. The rest is still yet to be planned and I look forward to seeing where my career takes me.
Thanks for sharing your story, Lewis, and best of luck with your APC!