Michael North-Ridge – 2023 Shortlisters
Posted on: 10 February, 2023
Building Surveyor, Hollis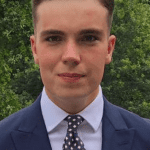 Like many young people approaching the end of sixth form, Michael was surrounded by voices encouraging him to apply to university.
However, he knew a traditional university wasn't going to suit his visual style, and after gaining some work experience, he began to explore apprenticeship options instead. "The main reason I decided to do an apprenticeship is because I'm a hands-on visual learner," he explained. "I was never fond of the traditional route of university. I like to be in the workplace and have control of what I'm learning."
Michael gained experience in several different areas of the industry. Through trial and error and guidance from family members within the industry, Michael realised that it was a career in building surveying that he wanted to pursue, which led him to Hollis, and UCEM.
Michael has found the course to be an excellent fit for his learning style: "If you put a textbook in front of me, it might not settle in. Whereas if you tell me something and then ask me to go and do it, it's far easier way for me to learn and absorb information. The course at UCEM enables me to do just that."
Championing apprenticeships for other young people is very important to Michael, who feels that the built environment needs to do more to promote apprenticeships as an option. He remembers only being presented with the traditional university route by his career advisors in school, and wants to do all he can to show the next generation that there are other choices available to them.
"I wish when I was in school, I had someone come and tell me about how great building surveying was, and that I could apply for an apprenticeship. But that wasn't there at that time. I do think if you get into the industry through an apprenticeship, you have a duty to shout about it and really advocate it."
Being shortlisted for Apprentice of the Year "means so much" to Michael: "It's recognition that I'm doing something right, and that my hard work has been noticed. It's a big achievement even to make the shortlist."
2023 Winners >