Mental Health Awareness Week 2020: Get involved!
Posted on: 18 May, 2020
This week is the Mental Health Foundation's Mental Health Awareness Week and we are getting fully behind the initiative at UCEM.
Taking care of your mental health is so important, particularly at this time during the worldwide COVID-19 pandemic.
This year's chosen theme is 'Kindness', and our Mental Health First Aiders (MHFAs) have teamed up to create some fantastic resources which we will be sharing on our social media channels this week.
Each day, we will be sharing a call to action on our social media channels related to the activities being hosted in-house by our MHFAs, and we would love our students, alumni and wider UCEM community to get involved!
Calls to action
Monday – Brew Monday
Talking to each other is crucial to your mental health. Our MHFAs have rebranded today as Brew Monday and asked all teams at UCEM to take a bit of time out of their day to have a social catch-up with a hot drink. Why not get involved too and send us your photos of you and other members of your household/others on Zoom sharing a tea/coffee!
Tuesday – Who's keeping you company?
It's likely you will have seen more of those – whether family, friends, pets or even houseplants – you share your home with over the past month or so. We will be asking you to share your photos of who has been keeping you company during lockdown. This is your chance to celebrate them as lockdown legends!
Wednesday – Wellness Wednesday
We will be sharing our MHFAs' tips for improving your mental health on Wednesday. There is no one-size-fits-all strategy for doing this so we are asking for your suggestions too which can be shared for all to benefit from. Watch their tips below:
Thursday – Acts of kindness
It's important to be kind to yourself and recognise your good deeds and achievements. On Thursday, we will be asking you to publicly give yourself a pat on the back and share your most recent act of kindness. Being kind is linked to good mental health so your acts will serve as inspiration for all!
Friday – Feedback Friday
Listening helps us understand each other and on Friday, we want to hear from you to find out how we can support our students with your mental health needs. We have a fantastic network of support teams at UCEM, from our MHFAs to our Disability and Wellbeing Team through to our Academic Programme Support Tutors and Academic Facilitators, but we can always improve so this is your chance to let us know what we could do better! Students and staff will then sign a Wellbeing Pledge to ensure we take on the lessons to improve our mental health beyond this week.
Our Mental Health First Aiders
Our MHFAs are here to support you. For a little more about them, watch the below video:
Facts and stats
We will be sharing the stats from the below infographic on our social media channels this week to mark Mental Health Awareness Week. Click on the image to look at the stats. To go to any of the links included in the infographic, take a look at the PDF version to click onto any of the URLs included.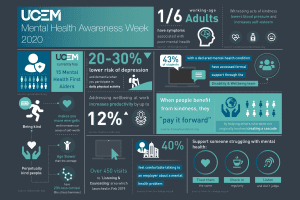 Keep your eyes peeled on our Twitter, Facebook, LinkedIn and Instagram channels to join the conversation. For more about Mental Health Awareness Week, head to the Mental Health Foundation's official campaign webpage.