Lyle Seaton-Collins – 2023 Shortlisters
Posted on: 10 February, 2023
Former Planning Apprentice, Vistry Group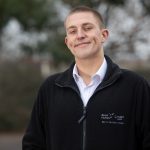 After gaining a degree in Business, Lyle secured a role on a graduate management scheme in the retail industry which "got [him] through lockdown", but it wasn't where he wanted to be long-term. He decided to pursue his interest in the built environment.
During his undergraduate degree, Lyle had worked part-time at a planning consultancy, which had given him an insight into how varied the industry could be. "Because I'd been working in the planning industry, I'd seen from an outside perspective how development worked. I realised it was something that was going to offer a lot of day-to-day variety because not every project is the same. It's all about problem solving from start to finish, and it's an opportunity to influence your surroundings in your community and hopefully make positive change."
Lyle began to look at postgraduate study options. He had two offers from traditional universities on the table when he interviewed with Vistry and learned about the apprenticeship route. He instantly saw the appeal of applying what he was learning to a job that he would be paid for, while working towards his professional accreditation.
He finds UCEM's course structure to be "a good basis for understanding how broad the built environment is in terms of careers and different options. It's also provided an outlook on surveying and what you need to understand to function well as a chartered surveyor – and it's not just academic. It's very much positioned towards how you're required to act and the things you need to know once you're practising and I think that's really helpful."
Lyle is happy to have been shortlisted for Apprentice of the Year: "It's really good to be appreciated for all the hard work that I'll put in, and it's nice to know that it hasn't gone unrecognised. So whether I win or not, it's just nice to be nominated and shortlisted."
2023 Winners >