Luke Standen – 2023 Shortlisters
Posted on: 10 February, 2023
Surveying Assistant, Hollis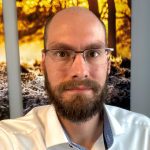 Most apprentices reach UCEM through their employers, but it was the other way around for Luke. He was already studying part-time at UCEM when he decided to explore the apprenticeship route, so he applied for a surveying assistant role at a UCEM partner company, Hollis, that would enable him to make a seamless transition to a building surveying apprenticeship.
"I've always been interested in building pathology", he said. "My partner and I will visit old abbeys and heritage sites at weekends, and I'll find myself examining the beams of an old pub!"
Luke left school at 18 to join the Army, where he served for 8 years. When he returned to civilian life, a friend helped him gain a role in manufacturing as a supervisor, where he spent the next 6 years and gained a Level 3 management qualification.
Luke had always assumed that he couldn't attend university without A-levels, but shortly after gaining his management qualification, he saw a Facebook ad for apprenticeships at UCEM, explaining that if he had a Level 3 qualification and completed an access module, a lack of A-levels wasn't a barrier to gaining a degree. Luke initially signed up for a part-time course while he applied to companies with apprenticeship schemes, eventually finding a role within Hollis.
Reflecting on his transition from part-time study to an apprenticeship, Luke said: "UCEM are just as good at doing part-time study and full-time study as they are apprenticeships. If anything you get that enhanced experience from apprenticeships which is one of the things that I really like about UCEM: you get the same amount of attention no matter what route you study. And every time I've had a query, I've been supported. I think that's one of the reasons I desperately tried to stick with UCEM when I was looking for an apprenticeship."
Luke is one of UCEM's undergraduate student reps, and enjoys encouraging other people to upskill and expand their knowledge. He credits his time supervising new recruits in the Army with his passion for this, commenting: "If someone says 'I'd quite like to do a course but I don't think there's any point or I'm getting past the age where it makes any difference', I always try to say you're never too old to learn. You learn every day – why not put it into an actual course and get a certificate from it?"
2023 Winners >