Louise Theobald – 2023 Winners
Posted on: 10 February, 2023
Learning and Development Coordinator, Readie Construction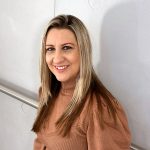 Louise works as the Learning and Development Coordinator at Readie Construction. She supports an apprentice who had enrolled while working at another company, and had decided to leave the programme because he was struggling with remote learning.
When this employee joined Readie Construction, Louise worked intensively with him to create the strong foundation of support that he needed to feel confident to re-enrol. She made him aware of the specific ways in which the company would support him, and liaised with both his line manager and with the team at UCEM to give the apprentice the assurance he needed that he could resume his studies and succeed. The apprentice agreed to re-enrol, and is now thriving.
Louise continues to develop the apprenticeship programme at Readie Construction, and works closely with the team at UCEM, which she credits as being great at communication, and keeping her up-to-date with how her apprentice is getting on.
Having been shortlisted for, and then winning UCEM's Apprenticeship Employer Representative award (for a SME), she commented:
"It means a lot to me. It's rewarding to be recognised for pushing the programme forwards. And obviously in my case for getting our apprentice back on to the programme and back on track. He's doing amazingly well."
2023 Winners >