My life in Construction Management: Guest blog by Afolabi Dania, UCEM Programme Leader for the MSc Construction Management programme
Posted on: 7 February, 2018
Studies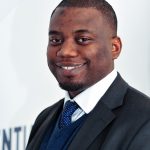 Growing up, I was surrounded by and influenced by people in construction. Being in Nigeria at the time, it appealed to me to study Building at university.
There were three areas of specialisation – building services, construction technology, and construction management. As much as I enjoyed the technical side of things, the management side of things struck a chord with me.
When I was done with my undergraduate degree, I enrolled in a Master's in Construction Management. That's how my journey started.
Working life
I've had quite a mix of experiences in my career so far. In industry, I've worked on small residential construction (mainly 2, 3 and 4 bedroom properties) and also maintenance and refurbishment projects.
However, most of my experience has come in academia. I got a lecturing position in Nigeria as a lecturer in construction management in 2005 and I have remained in academia/research ever since.
From there, I went to the University of Reading where I obtained a PhD in Construction Management. My research focused on construction corporate sustainability in developing countries. Shortly after that, I began working at UCEM as a Programme Leader for the MSc Construction Management programme.
Research
I think my career has been an interesting one, particularly on the research side of things. This has included looking into sustainability and environmental management in the Built Environment, and also innovation and commercial management in construction.
I've enjoyed researching how firms view sustainability and innovation, and understanding the barriers to these within construction and the reasons why they might not engage. The way firms view sustainability is now changing in developing countries.
Pathways within construction management
There are lots of opportunities in the construction management field as a researcher, which is the path I have taken. There are also lots of opportunities in the industry as a consultant or on-site as a project, site or construction manager.
There are lots of opportunities to apply the skills of a construction manager whether in construction health and safety, sustainability, project management or human resource and material management during the life cycle of procurement within the Built Environment.
Benefits of working within construction management
There are lots of transferrable skills in construction management; an example being project management which is one of the key skills construction managers employ.
You become involved in many facets of work within the Built Environment. Working in construction management can be very rewarding and you could be involved in lots of exciting projects from small, simple projects to big commercial developments. Some people are involved in working on superstructures which we look at within the programme.
There's a lot of diversity in terms of the projects you can be involved in. If you wish, there are plenty of opportunities to work in different countries too.
MSc Construction Management programme
The MSc Construction Management programme at UCEM is a conversion Master's. It is designed for people who do not have a background in construction.
The modules are varied and include subjects such as construction management, construction law and sustainability. There are also softer skills taught in modules covering the management of change, managing human resources, and finance.
It puts you in good stead to enjoy a lifelong career in construction management.
Afolabi has a wealth of experience within academia and industry, working as a freelance construction manager and consultant and latterly lecturing at the Ahmadu Bello University in Nigeria for five years before moving to Reading to gain his PhD. For more about the MSc Construction Management programme, please click here.