June 2022 Graduation: Your guide to the big day
Posted on: 22 June, 2022
On Friday and Saturday (24 and 25 June), we will be welcoming graduands and their families to Reading Town Hall for Graduation.
The ceremonies will be the first held without COVID constraints since the pandemic's inception – reason enough to celebrate!
Here's a guide to what to look out for and how to make the most of your day, with opportunities for those not attending also to take part…
Enjoy a glass on us!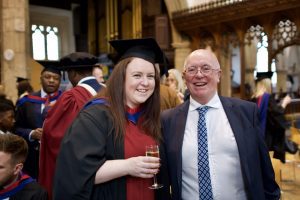 The biggest change afforded by not having COVID constraints on the event is the re-introduction of a drinks reception after the ceremony. Graduands and guests are invited to toast their achievement with a glass of bubbly in the Victoria Room so, if that sounds good to you, don't leave the venue after the ceremony!
Smile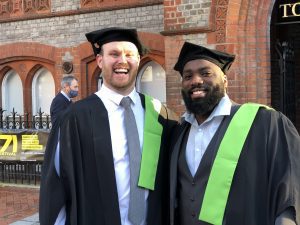 You will either be attending to mark the successful completion of your studies or to celebrate the achievements of a partner/friend/family member. If that isn't a cause for plenty of smiling then we don't know what is!
Members of the team will be taking photos to mark the occasion for use on social media and the UCEM website so do smile and share your joy in your own inimitable way so we can capture the special nature of the event.
Join in online!
Speaking of social media, we'll be sharing updates throughout the two days on our Twitter, Instagram and newly launched TikTok channels. We would love to share your posts too, so tag us on @studyucem and use the #UCEMGraduation and #BuiltForSuccess hashtags to get involved!
Not pre-ordered your professional photo? Order on the day!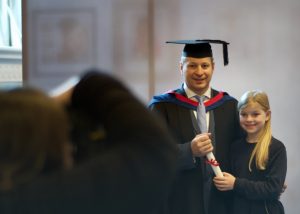 Ede & Ravenscroft will have its studio set up in St Laurence's Church and will be taking professional photos on the day. If you've already pre-ordered, we hope you've identified where your photo will take pride of place at home and if not, you can order on the day.
These photos have long been treasured by graduates and their family and friends, and we wouldn't want anyone to be disappointed by missing out on this opportunity!
Register with our Alumni Association
When leaving Reading Town Hall, we hope that doesn't end your association with UCEM. Completing your studies with UCEM means you join the 150,000+ UCEM alumni since we began training professionals in 1919.
Our international and alumni marketing assistant, Ekta Mirchandani-Khemlani, and other members of staff will be on one of the two alumni stands in the Victoria Room or outside the Concert Hall to help you register with our Alumni Association.
Why bother joining, you may ask? Well, with access to a range of networking, social and professional development events and seminars, 15% off UCEM Online Academy CPD courses, a careers support service for three years after Graduation, 10% off any UCEM postgraduate programme and dedicated groups on social media to stay in touch with your peers, it's well worth the effort! And if that doesn't convince you, then Ekta will be more than happy to discuss the benefits in greater detail with you!
UCEM Global Community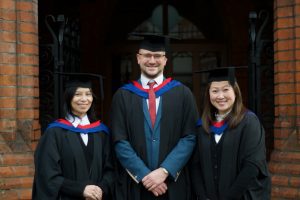 Speaking of the Alumni Association, there is also the opportunity to join the newly launched UCEM Global Community.
The platform enables alumni to stay engaged with UCEM and their peers and offers the opportunity to: become a mentor to current students; stay updated on new job listings; create and join local alumni groups; organise networking events; and register for upcoming events and CPD.
There will be plenty of QR codes around the Town Hall so you can join the platform and reap its rewards!
Take home a memento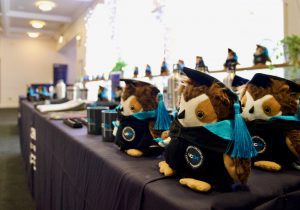 Want to take home a memento to remember your time studying with us? Our merchandise stand will be located outside The Concert Hall offering a range of goodies for you to take home and deliver (hopefully pleasant) nostalgia of your time with us.
Some housekeeping for the day…
Plan your travel carefully
We want your special day to be stress-free so plan how you intend to travel and where, if applicable, you are planning to park to ensure a smooth start to proceedings.
For those joining us on Saturday, you will probably be aware of the rail strikes taking place across the network on the day. Planning your journey will be especially essential so you make it to Reading Town Hall on time.
Check timings
You will have received communications from our graduation officer, Pru Sly, with further details about the day. Read this carefully and ensure you know exactly how the day will pan out. With three ceremonies across the two days, it's a military operation behind the scenes and your cooperation will ensure that everything goes as planned.
Any problems on the day?
Should you have any problems on the day and need to contact members of the Graduation team, they can be reached by phone on 07496 838919.
Unable to attend? No problem!
Our media team will be live-streaming the Graduation ceremonies so you can head to our YouTube channel to watch the whole event unfold.
We will also be posting photos and videos on our Twitter, TikTok and Instagram channels so there's no reason (barring alternative plans) why you or a family member or friend can't experience the joy of Graduation.
And last but not least…
Have fun!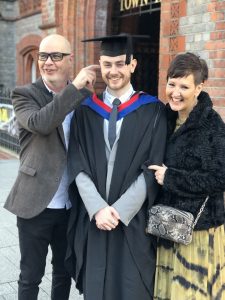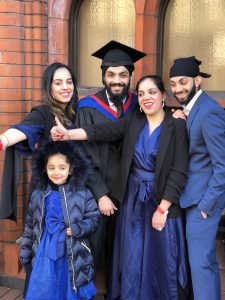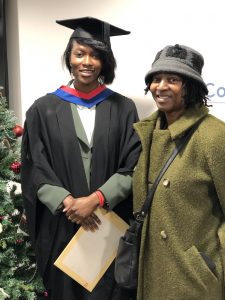 Most importantly, enjoy it. Graduation is the culmination of years of hard work, alongside your work and personal life, and this is your opportunity to celebrate this achievement with your peers.
We look forward to seeing you all later this week!
#UCEMGraduation #BuiltForSuccess