Jane's life in building surveying
Posted on: 5 August, 2022
Here, our BSc (Hons) Building Surveying Programme Leader, Jane Ballantyne, writes about her journey into the building surveying profession, her career so far and the programme she leads…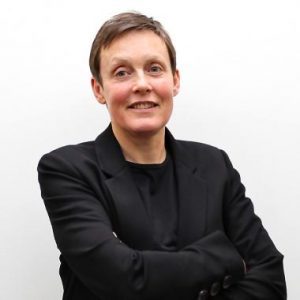 My first steps into higher education saw me go to the University of Kent to study Philosophy but it wasn't for me so I moved to London and did various jobs, including working as a chamber maid and a dogsbody for the Press Association.
One advert I answered saw me work for a firm which measured buildings, and that was when I realised building surveying was what I wanted to do. While working for this firm, I carried out a huge survey of the Nestlé factory in York, worked on plenty of buildings in London and drew up the buildings by CAD [computer-aided design] which was relatively new at the time.
Prior to this job, I knew nothing of the industry and couldn't draw by hand or CAD – I didn't know one end of a tape measure from the other! I was a complete novice but threw myself into it.
So, to the delight of my parents(!), I went back to university and gained a BSc (Hons) degree in Building Surveying at London South Bank University.
Career
Being a female surveyor was a rarity at the time and I remember, during my year out from university, being sent to go up to the very tall cleaning cradle of the NatWest Tower (now Tower 42) to see if I could cope with it. Perhaps to my boss's surprise, I loved it!
After graduating, I worked for a small firm as a Junior Surveyor and was very much thrown in at the deep end which enabled me to learn a lot very quickly.
Upon qualifiying, I worked for Malcolm Hollis which is one of the largest building surveying firms in the UK, and where I became a Partner.
I worked on many complicated acquisition surveys of some prestigious buildings, such as Centre Point at the eastern end of Oxford Street in London.
I also set up my own practice which carried out building surveys of high-value properties and dealt with party wall matters and other neighbourly issues, such as crane and scaffold oversailing.
Reflections
At each stage of my career, I've worked on different projects. In building surveying, you never do the same work day in, day out which makes for an interesting and challenging working environment.
Building surveying changes all the time, whether down to architectural trends, building regulations or events like the Grenfell Tower fire which force you to adapt and improve your processes. The profession keeps you on your toes and if you want to challenge yourself, you can.
I have been able to change what I specialise in and gone from private practice to academia, still as a Building Surveyor. People I was at university with are good examples of this diversity – one is an expert in cobb construction (houses made of mud and straw), another is a Project Manager for a large commercial developer in King's Cross and one is the York Diocesan Surveyor, looking after historic buildings.
There are lots of different opportunities out there for those who want to get into building surveying, whether that's in the private or public sector, domestically or abroad.
My programme
Through my teaching at UCEM, I want to give students the same enthusiasm for the built environment which I have.
The BSc (Hons) Building Surveying programme gives students a grounding in the basics of building surveying, such as law, construction technology and economics before moving on to specialisms which cover conservation, building pathology, party walls and project management. We are fortunate to have tutors who have considerable expertise in these areas.
Graduates of the programme become very employable and earn the opportunity to work in a stable and diverse profession.
Jane has more than 20 years' experience as a Building Surveyor working for private firms in London. She is a Fellow of the Royal Institution of Chartered Surveyors (RICS) and an RICS APC Assessor and Panel Chair. To learn more about Jane's programme, head to the BSc (Hons) Building Surveying webpage.