Introducing… Our Online Learning Research Centre
Posted on: 18 February, 2019
As an online university college, our staff are not as visible as the staff you would encounter at a traditional university. Therefore, you may not know how many colleagues we have located at our offices in Reading and Hong Kong, or working remotely around the world, or the various teams we have behind the scenes.
This is where our new 'Introducing…' blog series comes in. Each month, we will focus on a different team or group to give you a flavour of who works at UCEM, what they do and how that impacts on the institution.
First up, we speak to the Chair of the Online Learning Research Centre (OLRC), Dr Tharindu Liyanagunawardena to find out more about the OLRC and how it plays an important role in benchmarking our online learning offering…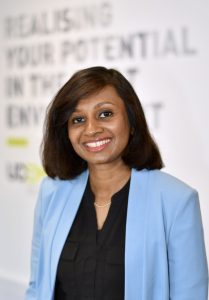 "The Online Learning Research Centre has been going for three years. The purpose of the OLRC is to scan the horizon, assess educational technology and consider how we can use it to enhance our students' experience. We are always thinking about the practical aspect of the technology we appraise.
"I am part of the Learning Technology Innovation Team within UCEM's Online Education Department. Dr Peter Stone is Head of Learning Technology and Graham North and I are Learning Technology Researchers.
"In my role as Chair of the OLRC, I run quarterly meetings which all staff members are welcome to attend. These began in December 2015 and the purpose of them is to make sure staff are aware of new learning technology, what we are doing and to disseminate good practice in this area.
"One such meeting was run as an accessibility session which showcased tips on creating accessible resources and how to check the accessibility of documents. This is an example of the practical advice we disseminate to our colleagues.
"We get different colleagues to present at the OLRC sessions; for example, if a Tutor has attended a conference, we will invite them to talk at a future session and reflect on what they have learnt.
"In addition to the quarterly OLRC meetings, I started running UCEM Inspire sessions in 2018. Unlike the OLRC meetings where we have internal staff presentations, the Inspire sessions are led by external speakers from other higher education institutions who talk about their experiences of technology innovation.
"The first Inspire session was led by Associate Professor, David Smith – the Head of the School of Education at Charles Sturt University in Australia. David led an interactive session on 'what's different about distance?' which got us all thinking about our students' learning experience and how we can facilitate a more consistent outcome for all students.
"We have since had sessions on podcasting, computer-marked assessments and ipsative assessment from peers at the University of Southampton, the Open University and UCL, respectively. We produce a short video interview with the presenter and a blog from each Inspire session on our dedicated UCEM Online Education blog site which helps consolidate our learning.
"The next Inspire session we are hosting features guest speakers from the University of Oxford and mobile app developers, Mobikats, who will present on virtual reality and augmented reality in construction. I am very excited about their visit to our office in Reading and the Inspire series has the added benefit of increasing our online education network which is essential in implementing industry best practice into what we do.
"One area of research we are looking into is chatbots. We are getting closer to developing something of practical use for UCEM and we demonstrated the proof of concept on this at our OLRC meeting in October.
"Other institutions have been using chatbots and we need to be using them too to improve our student experience as chatbots are a great way to provide quick 24/7 answers to general queries, and it will assist in us reaching our goal of becoming the leading, vocational online university.
"Learning analytics is another key area of research which we are working on. We list our current projects on our OLRC webpage on the Online Education blog site.
"In addition to the activity with the OLRC and my work on learning technology, I am keen to build on my portfolio of research. I most recently presented at the ALT Winter Conference 2018 on an analysis of automatic transcription software and had a blog about my forthcoming book chapter published by BERA – the British Educational Research Association.
"I really enjoy what I do at UCEM. I think it's hugely important that we seek to always make our online offer the best it can be, which includes making it exciting and accessible."
To read up on the latest from the Online Education Department, visit https://blog.ucem.ac.uk/onlineeducation/. To learn more about our supported online learning model, visit www.ucem.ac.uk/supported-online-learning/.