Introducing… our new student trustee and lead student representative
Posted on: 9 November, 2021
We recently appointed a raft of new student representatives as programme reps, ambassadors and trustees. The most prestigious of these roles is that of student trustee with input given at board level where strategic decisions are determined.
Having shone a spotlight on one of our two student trustees – Grant Alexander – here, we hear from our other student trustee, Muhammad Ahmed, who studies on our BSc (Hons) Construction Management programme and also acts as our lead student representative…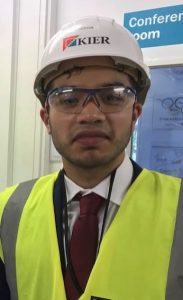 Applying for the roles
It's a role which helps students. I've been at UCEM for a number of years, and I feel I can advise and help students to enhance their experience with UCEM. I am someone who wants to help people. I want to strengthen the relationship between UCEM and its students. I want to help inspire improvements on the virtual learning environment (VLE) and continue where Phoebe [Farrell – previous student trustee and lead student representative] left off.
Initially, I had to decide whether to go for it or not. I spoke to Phoebe to understand the challenges the role brings and how to juggle all those responsibilities.
It's a privilege to be in this role – to be the lead voice for students. I've had to learn how to manage my time with my studies.
In terms of the application process, there were two interviews: the first with [Deputy Principal and University College Secretary] Jane Fawkes, [Student Outreach Manager] Nikki Bulteel, [Director of Registry and Student Services] Jess Handley and other SLT [senior leadership team] members and a final interview with [Principal] Ashley Wheaton.
Hearing the news
I was really happy. I got the phone call at the start of the weekend which was a great way to kick off the weekend! It also dawned on me the responsibilities I would now have so it was a decision I felt with excitement and nervousness. I have a good relationship with the disability and welfare team members, and they congratulated me. It was great to get their support.
Responsibilities
It's gone well so far. I've now experienced my first board meeting. I have monthly student representative meetings and regular catch-ups with my line manager to keep on track with my objectives.
Studying with UCEM
The best thing about UCEM is its flexibility. You can study in your own time. The resources are available online. You can also download webinars and reading materials so you can study offline.
I am fortunate that our studies are online. Other universities had to change a lot post-COVID whereas UCEM didn't have to change much at all. This helped during the lockdown.
The future
I would like to pursue a career in project management and management consulting.
Thanks for sharing, Muhammad, and best of luck with your new roles alongside your studies!
If you are a UCEM student and would like to get in touch with Muhammad, head to the Student Hub on the VLE and go to My Voice for his contact details.