Introducing… Our new gender balance student ambassador
Posted on: 15 September, 2021
Our student ambassadors aim to inspire current and potential students at open events and webinars, and through networking. They also have a presence on social media and email communications where they answer questions about the student experience and give advice.
We appointed our first four student ambassadors representing diversity, sustainability, welfare and student communities, respectively, last year. With two of our ambassadors having graduated and the creation of two new roles representing the LGBTQ+ community and gender balance, we have four new ambassadors this year.
Here, our new gender balance student ambassador, Tom Bristow – a property manager at student accommodation provider, SweetSpot – shares his story and explains what he hopes to achieve in the role…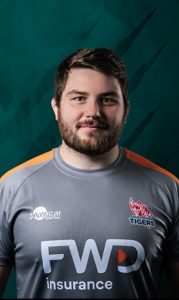 Why I went for the role
Having been within the sports industry as a professional rugby player for the past 10 years, I have directly seen gender inequality within the sport. Some of the best rugby teams and players in England are within the women's game, with their most recent domestic/international campaigns being very successful; however, they did not receive the same recognition through media coverage as the men's game. I want to spark a dialogue to encourage people to broaden their horizons on the subject as times are changing.
Early impressions
There has been a lot of background discussions which I have found really positive. I hope to share more with students at the start of the new term. I want to encourage students to get involved in the 'My Voice' section to really get the discussion of gender inequality trending.
Hopes in the role
I want to be able to support students with their issues, queries, or interests by creating a platform to have an open discussion. I would also like to further this by organising potential Zoom meetings with people that have been affected by gender inequality and how they've handled those encounters either through the contacts within the rugby industry or within the built environment sector.
Studying on UCEM's MSc Real Estate programme
It's challenging at times as I have no direct experience within the industry so most things are new to me. I love the challenge of learning and that's what I am enjoying most.
I find UCEM tutors have a great understanding of dealing with students who have no tangible experience within the sector. For example, I have never worked or studied within the real estate industry until recently, however, the tutors' patience in explaining any question asked creates a positive learning environment.
The support from staff at UCEM has been a huge help! There is plenty of support when studying and completing assignments. Having just moved from Hong Kong back to the UK, I was able to extend my assignment due date to help me complete the assignment to the best of my ability.
Future ambitions
My ambitions are to firstly complete the MSc Real Estate course and consolidate my knowledge. Following this, I would like to become a fully qualified chartered surveyor.
Thanks for sharing, Tom, and best of luck in the role and with your studies!
If you are a UCEM student and would like to get in touch with Tom, visit the 'My Voice' section on the VLE's Student Hub for his contact details.