Introducing… Our business development team
Posted on: 4 February, 2020
UCEM started offering apprenticeships in 2015 just around the same time as the institution's business development team was formed. Our business development team is central to our work on apprenticeships dealing with all internal stakeholders, as well as clients who hire apprentices.
The team is led by director of business development, Meryl Bonser, and associate director of business development, Martin Cawley, ably supported by business development executives, Adrianne Lowe and Sam Jolley.
Meryl joined UCEM as head of marketing in 2012 and has spent 20 years in business development and marketing within Higher Education; Martin joined in 2015 and has 14 years' business development experience in education; Adrianne worked in procurement for Thames Water before joining in 2016, with Sam joining the same year, having worked as a data analyst for a market research firm.
Here, the team discuss their role, what they enjoy about it and how they have supported UCEM becoming the largest provider of surveying apprenticeships…
Beginnings
MB: The Business Development Team came about due to a decision to separate marketing and business development so that business development focused more on external relations with businesses and marketing focused more on marketing to prospective students which allowed the people within those teams to concentrate on their strengths.
'Taking apprentices from school to FRICS'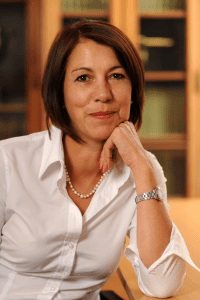 MB: We are a very successful team evidenced by the fact that UCEM is the leading provider of surveying apprentices. We engage with commercial firms in the property, construction and government sectors, educating them as to why apprentices are a good way to increase diversity and grow talent in the business. We assist with recruitment and help upskill existing staff by offering them career progression. This leads them to a route of professional chartered status. We take apprentices from GCSEs to FRICS.
We manage the relationship with our sponsors and explore opportunities for new business. We are the point of contact for our sponsors and endeavour to deal with any queries as part of the excellent customer management we provide. A good business development person is seen as a trusted intermediary by both clients and firms.
Since 2017, we have delivered more than half of UCEM's student base which demonstrates the importance of degree apprentices in the profession. The average British undergraduate is left with £54,000 of debt from university which doesn't happen with an apprenticeship. Apprentices can earn while they learn and are in a job at the end of their degree.
Working as a team
MC: As a team, we segment how we manage the market and accounts.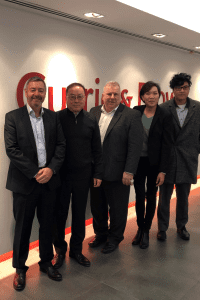 Martin Cawley (left) on a recent business trip to Hong Kong
MB: We work in a collaborative way. We have a broad depth of skill sets and experience which complements one another. I look after the property and real estate firms, Martin looks after the larger construction firms and cost consultants, and Sam and Adrianne look after SMEs, local authorities and housing associations.
'Influencing lives of non-traditional students'
MC: What I enjoy most about the role is the chance to influence the life of a non-traditional student.
MB: I enjoy making businesses aware of the opportunities which exist to broaden their talent pool, and this benefits students from a wide range of backgrounds. A great joy for me is seeing the students succeed and the impact we make on their careers.
SJ: We help smaller firms, who make up 95% of the sector in terms of workforce, who don't know how the system works to upskill existing or recruit new staff. I like helping these firms take the first step with apprentices.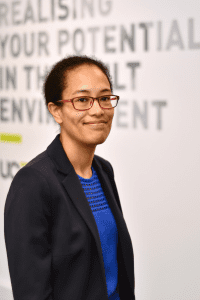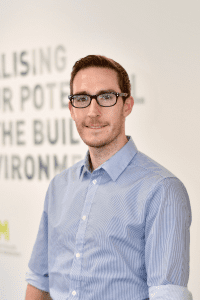 Adrianne Lowe and Sam Jolley
AL: I enjoy the student journey from speaking to someone at a smaller business and seeing them go on to achieve their AssocRICS or graduate. That's very rewarding.
What next?
MB: In terms of future plans, it's to continue the amazing growth that we have driven and to remain the leading provider of surveying apprenticeships, trusted by our clients and valued by our apprentices.
MC: We will continue to grow the number of firms providing more qualified surveyors into the industry.
MB: We will continue to provide life-changing opportunities for more students from non-traditional backgrounds to get into the sector.
If you're an employer who would like to hire an apprentice who studies on one of our degree apprenticeship programmes, email the team on businessdevelopment@ucem.ac.uk.