International Day of Charity: Hannah Peck's use of UCEM's charity day
Posted on: 5 September, 2019
Today is the UN's International Day of Charity, which is organised with the aim of mobilising people and organisations to help others through volunteer and philanthropic activities. In addition to UCEM's work with its charity partner, Launchpad, employees are able to take one day's paid leave each calendar year to help a charity or voluntary organisation.
Events and Communication Manager, Hannah Peck, took her charity day to support Reading-based mentoring and work experience placement service, Starting Point, and here, writes about her experience…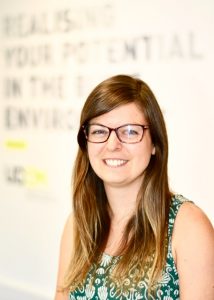 UCEM has a brilliant policy in place that supports all employees in taking one day's paid leave per calendar year for charity work.
I have been volunteering for a local project called Starting Point for over two years now. Starting Point have a simple aim: to provide young people with mentors who will educate, support and encourage them to make the sometimes-difficult transition into work, additional education or training.
Until recently, I spent an hour a week meeting up with my mentee to help him find work experience, volunteering placements and ultimately, a paid job. We used the time in several different ways; for example, CV writing, undergoing mock interviews, taking personality tests and confidence-building exercises and discussion.
Mentoring can be hard work, especially when mentees have mental health problems and extremely low confidence (as many of Starting Point mentees do) but it's worth it when you see their confidence increasing and the job offers coming in.
I requested a charity day to spend some time helping Sam Lloyd – the Starting Point Manager – with marketing. Like most small operations, Starting Point has a small number of employees who work extremely hard doing a variety of jobs covering a whole host of jobs such as mentoring, finances, office maintenance, business development and general admin (to name a few). Sam was keen to find out how he could raise the profile of Starting Point but wasn't entirely sure where to start as he had no marketing background. This is where I came in.
In the morning, I organised a workshop to discuss different types of messaging and audiences (a lot of people don't realise that your message will change depending on who you are communicating to). Together, we wrote a messaging matrix for Starting Point that can be used by anyone writing communications for the charity. This helps to keep their message clear and precise. We then went through basic social media training and I taught him a few shortcuts and tips (such as scheduling out social media in advance, shortening URL links and using free platforms for design work). After lunch, I explained the purpose of blogs and we developed a plan for future content (something Sam wanted to develop).
It was a great day where I really felt that I was able to give something significant back to the project. Sam still reminds me now how useful that one day was for him.
Through mentoring, my mentee received a volunteering placement with Starting Point and now oversees the social media schedule and writes his own blogs, coming up with some really engaging content. One of his tweets even led to Starting Point being donated a significant amount of money! Recently, we both realised a change was needed and I handed him over to another brilliant mentor who has helped him into his first paid job in six years! Standing down from one-to-one mentoring has given me more time to help Sam. I am now on their steering group and am a 'specialist' volunteer meaning that any mentee interested in marketing can meet up with me on a short-term basis to learn more about the profession.
To find out more about Starting Point you can head to their newly designed website.