In focus: Our nominees for the RICS Matrics Young Surveyor of the Year Awards 2020 – Poppy Taylor
Posted on: 18 November, 2020
Three UCEM apprentices and three alumni have been nominated in various categories at this year's RICS Matrics Young Surveyor of the Year Awards.
In the lead-up to the Awards, we will be profiling each of our nominees. We have published nominee stories about Dan Nixon, Thomas Scarlett, Kate Taylor and Matthew Stevens, and next up is that of Poppy Taylor who is nominated in the Apprentice of the Year category…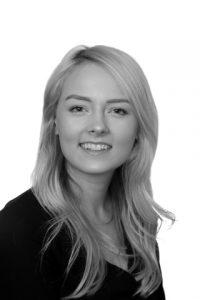 Poppy Taylor – Assistant Surveyor – West End Agency at JLL
Chartered Surveyor apprentice (Real Estate Management pathway)
How did your nomination come about?
"My nomination came about once the award had been brought to my team's attention, as they felt that it would be a good opportunity to highlight my work."
Why do you think you were recognised in this way?
"I believe I was recognised because of the hard work that I have put in over the last four years at JLL, especially over the last six months throughout the global pandemic. I have tried my very best to ensure that all members of the team feel as though they can rely on me for support, especially in this difficult time. I also like to think that my team are able to rely on the fact that my work is finished to the best standard allowing them to focus their attention to other opportunities. I am keen to learn and have focused on growing my skills beyond the role of an apprentice."
How are you finding your studies with UCEM?
"My studies are going well, I thoroughly enjoy studying alongside working as it enables me to apply my learning to my role. I am fully supported by both JLL and UCEM which enables me to work to my full potential."
What would it mean to you to win the award?
"It would mean a great deal to win this award. It would highlight that hard work pays off and is recognised. It also shows to me that the industry as a whole is transitioning to become more inclusive. It highlights the capabilities and potential of young surveyors that have chosen to take a different route into the industry."
Best of luck, Poppy! To find out more, head to the Awards webpage.