In focus: Our Management Finance and Science module
Posted on: 2 July, 2020
We asked MBA Construction and Real Estate programme leader, Marios Konstantinidis, to select a module unique to the MBA to give us a flavour of the programme. Marios chose the Management Finance and Science module which he runs as module leader and here's what he said about it…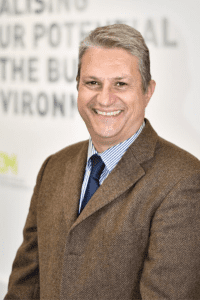 I have been the deputy module leader for two years and module leader for one year.
This module is concerned with understanding how quantitative concepts, methods and skills can help managers in their planning and decision-making process. It enables students to model solutions to financial and business planning problems and thereby, to understand how more effective decisions can lead to achieving corporate objectives.
Module resources
Students will have access to study materials, dedicated academic support, student forums, and learning activities via our online learning platform (virtual learning environment – VLE).  The module page on the VLE is broken down into structured study weeks to help students plan their time, with each week containing a mixture of reading, case studies, videos/recordings and interactive activities to go through.
Online webinars/seminars can be attended in real time and provide opportunities to consolidate knowledge, ask questions, discuss topics and work through learning activities together. Module forums on the VLE provide further opportunities to discuss topics with other students, complete collaborative work and get extra help from the module team. Further reading is supported through access to a dedicated e-Library.
Student feedback
The positive feedback received by students on the module includes complimenting the delivery mode, webinars breaking down the subject content, help with practical Excel applications, assignment preparation, 24/7 academic support and content related to the industry. It's always a pleasure to receive such feedback and I think in general our students really enjoy the module.
Evolution
In terms of developing the module, we never sit still. This module will continue to be updated to include the latest subject knowledge and elements of professional practice as is the case with all our modules.
To find out more about the MBA, head to the MBA Construction and Real Estate programme webpage.