In focus: Our communities student ambassador, James Doyle
Posted on: 2 November, 2020
We recently appointed our first four student ambassadors representing the following areas: diversity, sustainability, welfare, and student communities.
Our student ambassadors aim to inspire current and potential students at open events and webinars, and through networking. They also have a presence on social media and email communications where they answer questions about the student experience and give advice.
Over the next several weeks, we will be introducing you to our Student Ambassadors. We began with our diversity student ambassador, Ranikque Hayden-Best, and this week we hear from our communities student ambassador, James Doyle…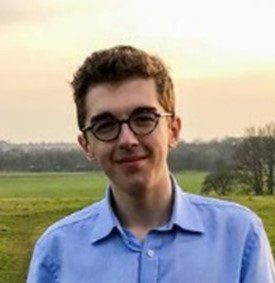 Career to date
My professional career to date has been spent at one independent firm of chartered surveyors in Sunderland. I work in a dynamic and varied environment, dealing with a wide range of residential and commercial property matters, including producing written valuations, expert witness submissions, agency services and development appraisal.
I also serve as a city councillor on Sunderland City Council, representing the Fulwell ward. I am deputy leader of the opposition on the Council, and sit on a number of committees and outside bodies.
Communities student ambassador role
To put it simply, I am passionate about helping people. Having studied with UCEM for over two years, I understand that online learning can be a challenging and, at times, isolating experience. I therefore can only imagine the difficulties faced by international students, as well as other students from underrepresented backgrounds.
This passion to help people was put into action when I helped set up a group to help those isolated during lockdown which I discussed in a UCEM podcast.
By serving as an ambassador, I have the ability to truly make a difference and advocate for change on behalf of students who would otherwise not be able to do so.
Hopes for the role
In my role as communities ambassador, I hope to do two things: listen and engage. I hope to listen to people because it is only through speaking with as many people as possible that I will be able to make improvements on behalf of the student body. I am limited by my own experiences and want to hear from as many students as possible, with as diverse a range of backgrounds as possible.
I am also here to engage. I want to encourage students to take every opportunity offered to them by UCEM. I want to help people engage with forums, reach out to fellow students using the message facility on the VLE, join in WhatsApp groups, participate in our LinkedIn group, and form small study groups with fellow students on their pathway.
In terms of my specific plans for the role, and working with my ambassador colleagues, I am looking to organise semi-regular drop-in sessions or surgeries for students to come along and share their experiences. We are looking to ascribe themes to each of these sessions and they will be run by the relevant ambassador or ambassadors.
I am also keen to kick start a 'Communities' blog, written by and for 'Communities' students. I think this could be an excellent way to engage and provide an opportunity for students to share their experiences.
Studying with UCEM
I have found studying with UCEM to be a challenging but immensely rewarding experience. The module tutors are all so clearly passionate about their subject and students, and the support provided is first class. I really couldn't have hoped for a more well-rounded and engaging undergraduate course.
If you are a UCEM student and would like to get in touch with James, visit the 'My Voice' section on the VLE's Student Hub for his contact details.