How UCEM's Bursary Schemes Can Help You Achieve Your Ambitions Within the Built Environment: Guest blog by UCEM BSc (Hons) Building Surveying student, Leslie James
Posted on: 25 October, 2017
"Words cannot express how I truly feel about this. I am very touched and grateful. Please convey this to the Bursary Working Group that I really appreciate what they have done and that I am truly thankful."
These are the words Leslie James wrote in an email to UCEM after having been awarded a bursary to study with us.
Here, the 39-year-old from the sun-kissed Caribbean nation of Trinidad and Tobago tells us his story and how UCEM's bursary scheme is helping him to realise his ambitions within the Built Environment: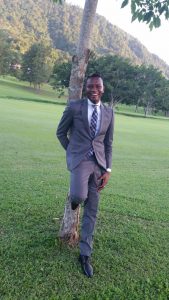 Leslie James
I am a Clerk to the Senior Works Supervisor of a regional corporation attached to the Ministry of Local Government and Rural Development in Trinidad and Tobago.
I heard about UCEM from a lecturer while pursuing an Advanced Diploma in Construction at a local institution some years ago. I was intrigued that there was an institution offering online accredited RICS, CIOB and CABE degrees part-time, especially since I wanted a career in the Built Environment but was unable to attend university on a full-time basis. In addition, my lecturer spoke highly of what was then CEM, hence why I decided to apply.
I checked out UCEM's website to find out as much as I could about the institution and came across information about its bursary schemes. Since I knew I would not have had the finances to pursue the degree programme, I applied for a bursary as I was determined to accomplish my goal of completing this programme.
The application process for the bursary was straightforward; not difficult at all. When my request was accepted, I was elated and relieved, to say the least!
Since receiving the award, I have found studying at UCEM challenging but rewarding. I have already seen the benefits of having a UCEM education. Besides the technical knowledge, I have been pushed to accomplish tasks which I initially felt were beyond me. I have learnt the value of time management, self-discipline and sheer determination, which are skills that I also apply to other areas of my life.
I have many ambitions for myself within the sector. Firstly, upon completion of my degree I plan to work towards becoming a Chartered Surveyor with RICS. I would also like to gain work experience outside of Trinidad and Tobago so that, with the technical knowledge and skills gained, I can, in future, help establish Building Surveying programmes that are accredited by the RICS/CIOB at local and/or regional schools here in the Caribbean. Presently, there are no local or regional institutions that offer RICS/CIOB-affiliated Building Surveying degree programmes.
In addition, eventually I want to specialise in conservation and sustainability. My country and the majority of the Caribbean were once colonies of either the Dutch, Spanish, French or English, or some combination thereof, and many of the buildings reflect the architecture of these nations. I want to assist in preserving these national treasures, and ensuring that both new and existing buildings are sustainable.
My studies with UCEM will definitely serve as a great foundation for my career ambitions.
If you too would like to pursue your ambitions within the Built Environment by studying with UCEM but require some financial assistance, then click here to see how we may be able to support you.