How sustainability influences my work: Interview with alumnus Tracy Cousins
Posted on: 25 May, 2023
Location: Broadstairs, England
Career journey:
Diploma in Surveying – 2020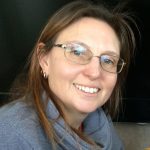 Tracy has worked in a variety of fields throughout her career from being a hypnotherapist, to a parts and reception manager (which involved basic car servicing and sometimes assisting on more complex mechanics), local authority and more recently in planning and building inspection. Since completing her diploma at UCEM in 2020, Tracy joined NHBC as a Building Inspector. In this interview, she gives us an insight into her experiences of sustainability at UCEM and reflects on how it plays a role in her career.
What were your experiences of sustainability at UCEM?
I already had an understanding and passion for sustainability prior to studying at UCEM and in my personal life I already practiced living sustainably – looking after our planet is important! This passion only grew during my studies and after. We covered sustainability quite a lot during my course, which gave me more in-depth knowledge and empowered me to think more broadly when applying it to my life and my work.
My course inspired me to learn beyond my modules and assessments, it made me want to expand my thoughts and ideas around sustainability. So I would do extra reading and follow things up, considering how I could use it in my working day and how I could encourage others to do the same.
How do you incorporate sustainability into your job role?
NHBC takes great pride in encouraging sustainable practices. I regularly help site managers to identify activities on site that don't necessarily serve a purpose financially or environmentally. I encourage clients to protect materials as they construct, to not use a throwaway item when there's an alternative product that they could use and reuse. I've found that the key is to start small and engage with sites as much as possible.
I've seen some really good improvements being made by site managers such as reducing aerosol spraying and finding uses for scrap products.
We have what we class as a damage potential rating and although it's not explicitly about sustainability, each assessment goes on a hypothetical journey; you've got a leak under your floor from the drainage so you'll have to rip it all out and start again etc. This then leads to wasting and replacing a lot of materials, costing money and resource in the process. So when we're assessing potential future damage risk, sustainability-wise it can have a negative impact.
I'm keen that we build constructive relationships, particularly with the sites that don't initially score very well – how can we help them?
In your role or generally across the sector, what do you hope to work on or see implemented in relation to sustainability?
At NHBC I feel very empowered to come up with ideas and there is a sense of healthy competition between teams to come up with things we can do more sustainably.
Over the years I've noticed that when you're trying to encourage someone to do something more sustainable often it has to be small tweaks. It's got to be easy, cheap and purposeful. Sometimes checklists and tick boxes are how you engage with areas across the sector, so to see more sustainability regulations implemented (alongside appropriate information and training) more checklists would be beneficial.
I think the wider industry and local authorities need to look at infrastructure more, particularly in relation to electric vehicles and public transport. I feel like the government are pushing electric vehicle and public transport use, but the infrastructure and power to support their use is not there yet. Neither is it there for safe, extensive cycle use. Alternative transport needs more investment and research.
What do you think UCEM needs to do next in relation to sustainability?
I think UCEM should continue to enhance its real-world application, especially in assessments, to help students to work individually and together to come up with doable solutions for both short and long-term sustainable enhancements. I also think creating an accessible space for students to find information about sustainability, about UCEM's work and more broadly would be useful.
I would like to see an increase in topics around human behaviour, particularly in terms of motivation for example, money. When it comes to the construction industry and encouraging sustainable behaviours it would be great to have an insight into what people's thought processes might be and how to maximise your interactions with them so you get a positive outcome for both parties (and the planet).
Tell us about someone who inspires you to be more sustainable
My Dad. From when I was little, my Dad would always reuse things as much as possible. I also remember we had lots of discussions about society, history and things about life that worked and didn't work.
He was a miner and after the pits closed he worked as a lorry driver so he never really moved away from fossil fuels but he was always open about the things that were and weren't within our power to change and that has really stuck with me in relation to sustainability.
Something that has also resonated with me over the years is the history of Native Americans and Paganism, and the way of life that you can't simply take everything from the land, you've got to give something back. If you can't farm, you can't feed. If you poison your waters, you can't drink. We must find a balance and when you look at Paganism and Native Americans, that's what they did. They never took more than they needed and what they did take, they made sure they fully used.
What climate actions do you take in your personal life and what would you say to people who want to take action against climate change?
Whilst at UCEM I really enjoyed talking to other students about sustainability more generally and we would often talk about how people could potentially save money by living more sustainably, such as investing in reusable period products and razors.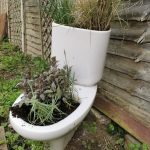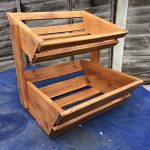 I like to invest in and optimise the products I buy so they will last as long as possible. I tend to keep things such as old bits of furniture so I can use the materials on a future house project, I made a vegetable rack in the back garden out of my kids' old bunkbeds which I'm very proud of. We have even used our old cistern in the garden as a planter!
I think if you're looking to live more sustainably, the opportunities are endless and you can really let your imagination go. What can you stop going to landfill? If you can't find another use for a product yourself, is there someone in your community who could?