How sustainability influences my work: Interview with alumnus Thomas Coulson 
Posted on: 16 December, 2022
Career journey 
BSc (Hons) Estate Management – 2014
Since 2016, Thomas' career has seen him work as Head of Sustainability at SHW Property, and more recently as Sector Lead for Facilities Management and Managing Agents at Ground Control, a carbon-neutral company that offers award-winning services to over 50,000 commercial properties across the UK. In this interview, he gives us an insight into his experiences with sustainability at UCEM and reflects on how it plays a role in his career.
---
What were your experiences of sustainability at UCEM?
When I was a student at UCEM the topic of sustainability was still quite new, but it was clear that there was a passion for the subject and a drive towards net zero. The modules where sustainability was included, I enjoyed the most!
Being able to study through distance learning at UCEM gave me the freedom to continue my career and apply my learning to real-world experiences and upcoming challenges. 
This flexibility allowed me to apply my interests in sustainability and what was happening in my job at the time to my dissertation on the UK's Minimum Energy Efficiency Standards (MEES) which had yet to be implemented. I received great support with my project, and the connections to past students and experienced tutors from the property industry helped build momentum towards this subject matter. It's great to learn that sustainability is an even bigger focus now at UCEM!
How do you incorporate sustainability into your job role?
My current role at Ground Control is all about ESG (environmental, social and governance) and using the external environment. We work with clients to help them reach carbon neutrality and sustainable goals as part of the Paris Agreement. My favourite aspect of it is the opportunities to help the people and planet around me, and to take steps to tackle climate change.
In the last year I have worked with EQUANS to support multiple tree planting schemes to celebrate National Tree Week, including planting over 3000 across EQUANS sites. In May 2022, we celebrated World Bee Day in partnership with JLL, scattering some wildflower seeds and working with them on their green roof in Reading. I also recently hosted an event 'Green Gains 2', where we had guest speakers from organisations like Natural England.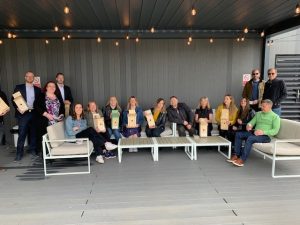 Biodiversity is becoming more important and impactful in decision-making, so opportunities like this give us the chance to present to senior people in the property and built environment industry. Encouraging conversation and collaboration between neighbours and partners to do something to help the environment is an essential aspect of my job and Ground Control.
I'm currently working on a big project with Severn Trent for the Commonwealth Games in Birmingham where we're planting 2022 trees as part of their legacy to offset and be carbon neutral games.
In your role or generally across the sector, what do you hope to work on or see implemented in relation to sustainability?
For my role, I worked with an institution to present to their students about biodiversity and would like to collaborate with more institutions to develop a sustainability module in the future. Educating those around us and professionals of the future is vital for a sustainable planet. With so much evidence towards climate change, such as extreme heatwaves and droughts, there is also plenty of work that needs to be done towards informing those who say global warming isn't real.
We know that the recovery of nature is needed to help meet the Paris Agreement and to help reduce the temperature of the planet. I would love to see enhancements made to how the industry measures and demonstrates the positive impact of investing time, money, and resources into protecting the environment. We need to look at how buildings' green credentials are being valued, not just in relation to money or the green pound but more about regenerating wildlife and nature.
Finally, COVID-19 highlighted that people had to isolate in flats with minimal outdoor access, and as a result we are now seeing a higher demand for easily accessible green rooves and outdoor spaces. At Ground Control we have focused on this, establishing allotments on rooves for quick, accessible nature spaces. I believe the demand is only going to grow so it'll be interesting to follow it and see how the market changes.
What do you think UCEM needs to do next in relation to sustainability?
UCEM has always been quite sustainability-led and I know that this focus has increased over time. In terms of on programme, I think it would be helpful for students to understand DEFRA Metrics 3.0 and how Biodiversity Net Gain can be achieved. More widely, it would be great to see UCEM increasing its general education around sustainability and related campaigns, hosting activities, and carrying out more community-based projects.
What climate actions do you take in your personal life and what would you say to people who want to take action against climate change?
I prefer to take a nature-based approach and enjoy including my children in activities at home, such as planting trees and building bug hotels in our garden.
Additionally, I volunteer for ecology surveys looking at different habitats and species. If you're based in the UK there are a number of surveys run by environmental charities that you can support every year, for example, The Big Butterfly Count by Butterfly Conservation and The Big Garden Birdwatch by the Royal Society for the Protection of Birds.
There is a misconception around climate change action, where people think they need to take extreme measures such as building a bamboo house or buying hemp clothing. While we do face a huge challenge that will require big changes very soon, there are also little things that we, the public, can do that are easier than we think. It's just making sure that we put the effort in the right place and what works with our own circumstances. 
One action I would recommend would be, if you have a garden or have space to have a few plant pots, consider growing certain types of flowers that encourage bees and butterflies to support pollination and the recovery of nature. The Bumblebee Conservation Trust has a useful guide to bee-friendly gardening that's worth having a look at.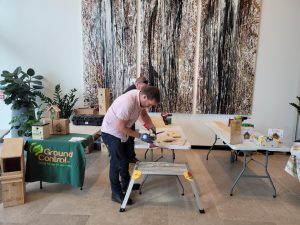 If you are a UCEM alumni, student, staff member or partner and would be interested in sharing your experiences in this interview series, please email Jessica via sustainability@ucem.ac.uk.