How sustainability influences my work: Interview with alumnus Stephen Varwell
Posted on: 10 May, 2023
📍 Isle of Skye, Scotland
Career journey
PG Diploma in Surveying – 2007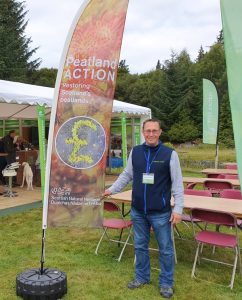 Before joining UCEM for his PGDip in 2005, Stephen studied at Aberdeen University for his undergraduate degree in Countryside and Environmental Management and master's degree in Rural and Regional Resources Planning.
Stephen began his career with NatureScot (which was then called Scottish Natural Heritage) as an Area Officer covering the Isle of Skye. He was supported through his Diploma in Surveying and RICS APC (Assessment in Professional Competence) by SNH and then became a Rural Surveyor covering the West Highlands of Scotland, advising on rural land management issues, including species re-introduction, deer management, and agriculture.
He went on to work in the private sector for a couple of years before coming back to NatureScot as a Rural Surveyor covering the north and east of Scotland. He joined the Peatland ACTION team in 2021 and hopes to stay there for the foreseeable future.
What were your experiences of sustainability at UCEM?
I studied the Diploma in Surveying through part-time, distance learning between 2005 and 2007. The course covered a wide range of subjects in the built and rural environment and the issue of sustainability ran through many of these subject areas – for both the rural and built environment. It was good to learn about sustainability more broadly across the built environment after several years of working in the conservation sector. I guess climate change wasn't such an everyday phrase back then, and I'd like to think that the modules now focus much more on delivering net zero, nature-based solutions, biodiversity protection, etc.
Sustainability is such a broad topic/ definition and covers so many things to do with the twin crises of biodiversity loss and climate change. These issues were in their infancy when I was studying at UCEM, and I must confess that I don't recall a particular issue that has stuck in my mind since then – apart from the fact that all aspects of property and land management have a role to play in delivering sustainability – whether that is at a farm/estate level or a national/global scale.
I really appreciated being able to return to studying after a few years of work experience and having conversations with other students who were also working and bringing their own experiences and opinions to the debate.
How do you incorporate sustainability into your role?
My current job is as a manager within NatureScot's Peatland ACTION programme. The programme is focused on restoring degraded peatlands in Scotland to reduce carbon emissions and actually absorb carbon from the atmosphere in due course, so everything I do is about sustainability and helping to mitigate climate change and biodiversity loss.
The most rewarding aspect of my job is seeing degraded peatlands successfully restored, and convincing land managers that protecting and restoring peatlands is something that they want to do.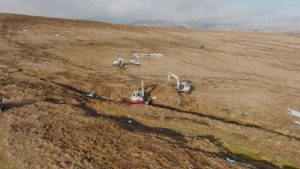 In your role or generally across the sector, what do you hope to work on or see implemented in relation to sustainability?
Even working in the nature conservation sector, in the last five years it feels like there's been a sudden shift in conversation. What we've been talking about for ages is now front and centre and policies have changed to incorporate it.
My work in Peatland ACTION is hugely challenging but also hugely rewarding as we have a real opportunity to deliver something that has an immediate and significant impact in terms of reducing carbon emissions, thus contributing to net zero. I'd love to see more land managers undertaking peatland restoration and valuing their peatlands for all the wide range of public benefits that they can deliver: clean water, biodiverse habitats and places where people can make their living from agriculture, sporting and tourism activities.
I moved to join Peatland ACTION when COP26 was taking place in Glasgow so it was a real baptism of fire. All of a sudden there was this huge media interest in what we were doing. Unfortunately, as time has moved on and the dust has settled, the media have moved their attentions on to other things but I'm hopeful that the more the sector works together, sharing best practices and bringing sustainability to the forefront that this will have a wide-reaching impact.
What do you think UCEM needs to tackle next in relation to sustainability?
I'd love to see UCEM putting sustainability and climate action at the heart of everything they teach so that the next generation of graduates appreciate that they don't just need to minimise their impacts on climate and biodiversity, but actively restore nature and reduce climate change. And use nature-based solutions to do this!
As well as embedding it across all modules I think creating a separate module purely on sustainability to ensure a wider understanding of sustainability and how it relates to the built environment. I think another way UCEM could do this is through case studies and real-life examples.
Tell us about something that inspires you to be more sustainable
My colleagues in Peatland ACTION are a group of incredibly talented and dedicated professionals who are working tirelessly and creatively to find new ways of restoring peatlands in Scotland in order to reduce emissions and improve these valuable habitats. 'Green finance' is becoming an increasingly important tool in helping to deliver this, but ultimately land managers have to really want to do this. My colleagues are working hard to demonstrate all the benefits of peatland restoration to land managers and communities all across Scotland.
I recently listened to Mark Carney's Reith lectures from 2020 and I found them very inspiring in terms of how we needed to do things more sustainably at the macro level.
I'm also a fan of James Rebanks' books, The Shepherd's Life and The English Pastoral. I liked the fact that this is someone whom you would class as sort of a traditional agricultural farmer who's come around to the realisation that lots of the old ways of farming the land were there for a reason and have a renewed relevance now and he bridges the debate on rewilding really well.
What is your favourite climate action that you do in your personal life?
Outside of work, we run a small croft with native-bred cattle and sheep. We manage this with sustainability at the heart of it; minimising inputs, creating and managing semi-natural habitats, breeding low-maintenance breeds of livestock, and growing local food. I'd like to think that we're doing what we can for nature, wildlife, climate, local community, etc. I appreciate that not everyone can do this, but I'd recommend that people buy and eat locally-produced food wherever possible – and really think about the food miles on what they eat.
If you are UCEM alumni and would be interested in sharing your experiences in this series, please email UCEM's Sustainability Education & Engagement Officer, Jessica Gordon-Calvert via sustainability@ucem.ac.uk.