How sustainability influences my work: Interview with alumnus Samantha Lloyd
Posted on: 19 July, 2023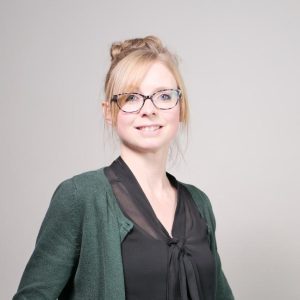 Location
Tarvin, Cheshire, England
Career History
MSc Building Surveying – 2022
Samantha started her professional career in interior design, specialising in bespoke kitchen design.
Graduated from Liverpool John Moores University in 2011 – BA (Hons) in Interior Design
Worked with companies Mowlem & Co, Neptune Home, The Cheshire Kitchen Company
Used her creativity to bring designs to life for commercial and non-commercial clients.
Sam joined UCEM's MSc Building Surveying programme in September 2020. Her dissertation topic was on flooding in hospitals. Since graduating, Sam has been working with CBRE as a Graduate Building Surveyor.
How has UCEM shaped your interest and/or knowledge of sustainability?
I hadn't had much experience with sustainability before joining UCEM. As a kitchen designer, it didn't factor into my work. My first module was Sustainable and Innovative Construction. It was a good introduction to sustainability in the built environment. The assignments focused on sustainable materials and how they factor into sustainable construction.
My dissertation was on flooding in hospitals, combining sustainability and climate change. It was an eye-opening project for me, a chance to build my knowledge and I had great support from UCEM tutors.
How do you incorporate sustainability into your role?
I work at CBRE as part of the next-generation programme. My current role is Graduate Surveyor focusing on commercial real estate. Focusing primarily on commercial real estate, I work on a range of projects:
Roof repair work on industrial units
Communal refurbishments on offices
Dilapidation assessments, etc.
Sustainability comes in many forms throughout my work, for example, in roof repairs. When I am working on this type of project, I'm always conscious of the long term and the materials used. What legislation and requirements are coming soon? How do we address them now instead of later?
I think a lot of people in this industry think about sustainability in ways they might not realise. In finding ways to reduce waste, time, and other resources, we are being sustainable.
In your role or across the sector, what do you hope to work on or see implemented in relation to sustainability?
I'd like to better integrate sustainability into my work. I'd also like to better advocate with clients about sustainable solutions. I believe I'm in a prime position to do that with a company like CBRE: they were recently ranked no. 4 on the Barron's list of the 100 most sustainable U.S.-based companies for 2023. CBRE is passionate about staff undertaking ESG training. I would love to broaden my sustainability knowledge further.
In the UK, the sector could be more proactive in long-term approaches to construction. We need to prepare the industry for the future. This can be done through legislation, people and the environment.
What do you think UCEM needs to tackle next in relation to sustainability and/or climate action?
I would like to see a broad increase in sustainability on MSc Building Surveying. Perhaps an optional module for those who haven't studied sustainability before. Or a dedicated webinar series about dealing with sustainability in the built environment.
Tell us about something or someone that inspires you to be more sustainable?
I didn't formally learn about sustainability before joining UCEM. I did used to watch a lot of David Attenborough's documentaries growing up. He put in perspective for me how we have contributed to climate change and our collective responsibility. I think in the Global North we've been desensitised to the issue. Attenborough captures the sheer impact we're having on the planet.
What is your favourite climate action?
I live in Chester and commute to Liverpool for work which is approximately a 45-minute drive. Instead of taking the car every day I travel by train two days a week and work at home one day a week. We also do a lot of batch cooking and weekly meal plans at home, reducing energy consumption and food waste.
How is the climate crisis currently impacting your community or geographical location?
Where I live outside of Chester is semi-rural. Our house is surrounded by farm fields and we're on a septic tank drainage system which isn't ideal. I have seen more localised flooding. Being next to farm fields, we were recently surrounded by a little moat. My dissertation was based on my local hospital where flooding has been bad. As a country we need to be doing more to prepare for extreme weather. Our people and environment need to be more protected.
UCEM alumni: interested in sharing your experiences? Please email UCEM's Sustainability Education and Engagement Officer, Jessica Gordon-Calvert: sustainability@ucem.ac.uk.