How I'm making the most of my apprenticeship: Emily's story
Posted on: 11 July, 2023
Emily joined UCEM in September 2022 to start her Chartered Surveyor apprenticeship, specialising in Construction Management. She works as an Assistant Project Manager for Rider Levett Bucknall and already has a number of accolades to her name. She recently won RLB's Apprentice of the Year award and in the past few weeks has won the Top UK Apprentice of the Year award at UKREiiF.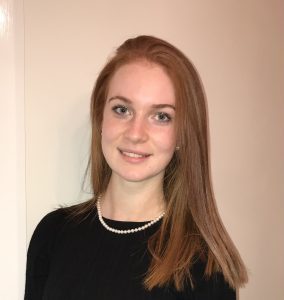 How did you become an apprentice?
I took a gap year after I completed my A-Levels as I was unsure whether to go to university. I am so glad I took some time to think about what I wanted to do. In my gap year, I worked part time for a small property development company. There I was exposed to many aspects of the Land and Planning process. I thoroughly enjoyed my time working here as it gave me an insight into the property and construction industry. Alongside this role, I worked as a Teaching Assistant at a local primary school. I also travelled a little. I then decided a degree apprenticeship was the perfect route for me, as it allows me to work and learn on the job, whilst completing my degree. This means that I can apply what I am learning at university directly to my project.
What drives you?
I am motivated to complete my degree apprenticeship and then go onto gain my chartership. At work I'm always learning, and this means my professional career has had a good start which I'm excited to progress in the future. I attend lots of CPD training sessions which are useful and educational. I enjoy mixing with like-minded professionals daily and aspire to be like them.
You seem like a confident person. What advice would you have for an apprentice, that wants to progress, but might feel quite shy and cautious?
My advice would be to get involved with as much as possible, and ask lots of questions to aid learning. This brings exposure to many aspects of the industry. For example, I have an interest in sustainability and I am part of the Global Carbon Committee at my company. I attend meetings with colleagues from all around the world. It is very interesting to see how the company comes together and operates globally. Also, attending conferences is a great way to learn and network with like-minded people. I went to a Government Property conference representing RLB, and was lucky enough to be asked to speak on the panel. This was such an amazing opportunity. When starting out as an apprentice, people will be willing to help your learning and work with you. I find it inspiring talking with more experienced people and hearing about their career, and how they got to where they are today.
What's your favourite thing about the industry?
I enjoy the mix of working in the office and going on site visits. It is nice to be able to see how my work is having an impact on the project and see the progression. My current project is a £400 million redevelopment in central London. This project includes 500 apartments, a hotel etc. I am able to go on weekly site visits where I can see the development first hand. It is good to be able to see various stages as some apartments are complete and ready for sale, and some are still being constructed.
What's a change you'd like to see happen in the industry while you're working in it?
Protecting the environment is starting to become a focus within the property and construction industry. People are starting to think more about the future and as new legislation comes into place, the industry is constantly changing.
Outside of property, what are your other interests?
I have always been interested in sports, as a result of this, I helped set up a netball team within my company. It is nice to be able to meet with colleagues after work and my company were very supportive of this. We have also participated in property sports events against other companies, such as the Surveyor Sevens tournament (an annual inter-company netball and rugby charity event).
If you are interested in knowing more about apprenticeships then head to our become an apprentice page.