Housing for Good: What we learnt
Posted on: 2 October, 2019
We were thrilled
to be joined by a
lmost 100 people at Reading Town Hall for our
Housing for Good event
last Thursday
.
Our
guest speakers, from local politics and industry,
surveyed the state of housing in Reading and beyond
, and proposed solutions
which could potentially help alleviate the housing crisis locally and at national level.
Here's a round-up of the speeches…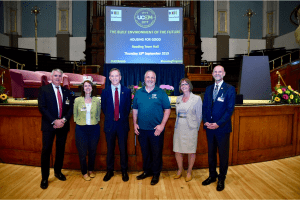 'The situation is truly dreadful'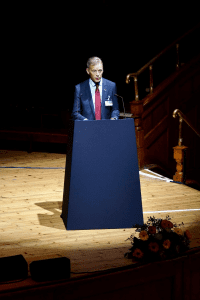 Reading East MP, Matt Rodda, began by stating how housing prices in Reading and across the country are unaffordable. He mentioned how, in the 1990s, he was able to buy a house with his girlfriend after leaving university but now, the possibility of university-leavers being able to buy a house is out of reach for all but the most well off. Matt summed up the situation as being 'truly dreadful'. 
Matt identified the issue as problematic for the Reading community and a generational issue on a national scale. He stated how the issues surrounding private housing are widespread and multi-faceted, with the residents he meets at his councillor surgeries coming to him with a wide range of concerns from both a tenant and landlord perspective. 
Matt paid tribute to the work Launchpad is doing to support homeless people in Reading at a time when rough sleeping is on the rise. 
He concluded by commenting on solutions which he feels includes building more homes in the south to try and attain a supply that meets the demand; providing a greater supply of good quality housing; and providing more social and affordable housing. Dwelling on how this can be achieved, Matt said that developing existing brownfield land could cover demand in Reading borough up until 2030 and advocated a more interventionist approach by government. He added that Labour would help fix the crisis but that it's essential that parties work together across politics and the industry to solve it for good. 
'The housing crisis is hitting
young people the hardest'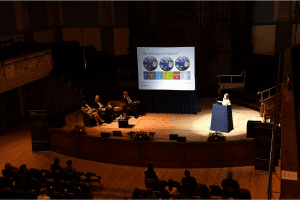 The Chief Executive and Co-Founder of sustainability charity Bioregional, Sue Riddlestone OBE, came on to the subject of the housing crisis from a climate and ecological point of view. Discussing the work of Bioregional, she stated we would need three planets to support the way we, as human beings, are using resources currently. On this basis, Bioregional is working to limit resource-usage to a one-planet scale and this underpins the charity's 'One Planet Living' vision. 
Sue explained that one way the charity espouses its philosophy is through creating sustainable communities, citing the BedZED eco-village in south London where the organisation's headquarters is based. Sustainability was designed in at the start with photovoltaic (PV) panels incorporated, sustainable building materials used in its construction, a green transport plan embedded in the development, and on-site composting and recycling included. 
Sue mentioned how it's important that actions which support sustainability are made easy for people to engage with, and called on local and national governments to support One Planet Living. She also pointed to research which found that Bioregional communities had a higher percentage of residents that knew their neighbours than the national average and this is proven to be better for people's mental and physical health, particularly in staving off isolation. There is a One Planet Living framework and Sue said this can be used by others to live sustainably and replicate the success of BedZED, which has been followed up with other One Planet communities being built in Brighton, Bicester and Oxford. The Bioregional blueprint has proven to be very influential with Sue enlisted with writing the sustainability strategy at the 2012 Olympics, including the environmental considerations for the athletes' accommodation. 
Returning to the theme of housing for good, Sue agreed with Matt that it is hitting young people the hardest and, through the sustainable housing work being led by Bioregional, there are plans to build developments where the costs for inhabitants would be one-third of their income to make it more affordable. 
'The housing market needs to build communities'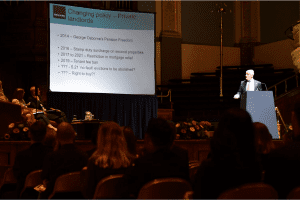 Steve Woodford, Managing Director at Haslams Estate Agents, gave a thorough presentation on the state of housing in Reading. He first showed how steeply the value of new homes has shot up over the past 20 years, with notable milestones on that journey from £120 per square foot in 1997 to £427 today including the opening of The Oracle shopping centre in 1999, the introduction of the help-to-buy scheme in 2013 and the announcement of Crossrail a year later. 
On Crossrail, Steve noted how Network Rail projected an increase of 74-75% in the value of properties within 1km of the station from 2014-2021, compared with 50% in the surrounding area. By 2018, these figures seemed very conservative with data showing that town centre apartments had grown in value by 80%, other apartments saw growth of 46% and houses further out of town had seen increases of 24%. 
Steve applauded the help-to-buy scheme, displaying graphs showing that it has driven housing demand and value. Looking ahead, Steve showed how there are more than 5,500 homes in the construction pipeline in the town, commenting that this is a healthy supply line and sustainable with demand which will include buy-to-rent developments from 2021. He was also positive about how high-rise developments in the town better cater for the communities with 24-hour concierges, residents' lounges and cinemas, and tech hub workspaces. 
While attempts are being made to provide sustainable housing solutions, Steve continued, government policy needs to remain sustainable to support the market. Steve lamented how parking has been affected by policy, citing Planning Policy Guidance 3 which brought about higher density housing developments which often neglected necessary parking provision leading to more parking on pavements, blocking driveways and preventing emergency vehicle access. To bring the point full circle, Steve pointed out how MPs are calling for a national ban on car parking on pavements… 
Having championed the help-to-buy scheme, Steve commented how it has been extended to 2023 but currently there is no scheme beyond then which is a concern. He pointed to the many legislative changes relating to private landlords since 2014, including the stamp duty surcharge on second properties, tenant fee ban and, going forward, the likely abolition of section 21. Steve called for more sustainable policies to support a more stable and sustainable housing market. 
More data was used to show a comparison between Reading and neighbouring areas showing that the town is more affordable to live in than most in Berkshire and Oxfordshire, and that population growth is rising, and will continue to rise, at a steady rate. With Crossrail, the Western Rail Link to Heathrow and the third runway at Heathrow on the horizon, more affordable housing is needed in Reading, he argued. 
Among the solutions he offered in conclusion were an emphasis on creating communities rather than building boxes; ensuring developers concentrate on placemaking; dealing with demand by creating more garden villages; and bearing in mind what is important when creating housing – namely, a sense of community, affordability, transport links, green space, local amenities, and health and wellbeing. 
'It's about housing for all in great places to live'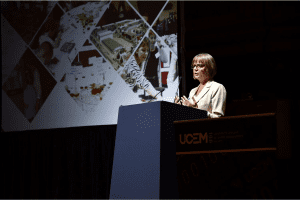 Kim Cohen, a Partner at integrated planning and design consultancy, Barton Willmore, centred her presentation on infrastructure supporting housing and consulting with the public to bring about better solutions for all. 
Kim began by saying that an inclusive approach is needed for all to have great places in which to live. She highlighted how infrastructure is key with schools, open spaces, community facilities and connectivity to places and spaces hugely important in ensuring the sustainability of housing developments. Responding to climate change is another important consideration, she said. 
Understanding and responding to the market's needs, whether it be family housing, small households, apartments, retirement living or student accommodation, is essential, Kim stated. A variety of different solutions are needed to facilitate the needs of various different stakeholders so there's room for the private market, private rentals, build-to-rent, shared ownership, social rentals, affordable housing, custom builds and self builds. Kim mentioned how the solution isn't always home ownership and that long-term renting is a viable option as demonstrated in other countries in Europe. She reflected that home ownership is ingrained in British culture and a shift to long-term renting would require a culture change at a national level to change people's perceptions of this potential housing solution. 
Kim added that there needs to be greater access to finance for people in finding housing, and planning and designs with a stronger community emphasis, particularly in regard to green, open spaces. Crucially, she concluded, stakeholders must work harder to improve the engagement with the public to find solutions which created integrated communities and lead to more sustainable housing. 
Creating a home
for someone in housing need in Reading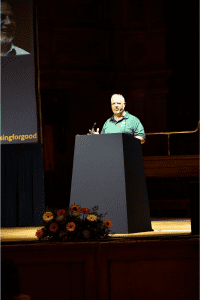 Our final speaker was Jason McMahon – Corporate Partnerships Manger at Reading-based homelessness charity, Launchpad – who explained a little more about the project the event was in support of and encouraged guests to donate on the evening. 
A Launchpad bedsit is in urgent need of refurbishment and requires £6,000 to restore the property, providing a safe and stable home for a vulnerable person in housing need. Launchpad raised £240 on the night from the event and is nearly two-thirds of the way to its total. Donations are still being accepted and you can head to the JustGiving page to help make a difference to those in need of a safe roof over their heads.