Graduation: What you need to know
Posted on: 1 September, 2021
We are hosting our first Graduation ceremony since the COVID-19 pandemic outbreak on Saturday (4 September). Naturally, we are delighted to be able to celebrate with our graduates in person once again though the pandemic means there will be a few modifications to proceedings.
The event is for our 2020 graduates who were robbed of the opportunity to attend Graduation last year due to the UK's various lockdowns. For those attending Reading Town Hall on Saturday and those unable to travel, here's a rundown of what you need to know…
Get involved on social!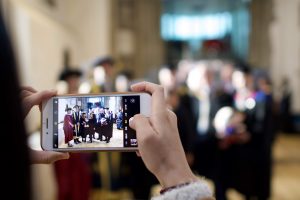 Selfies of you and your party en route to Reading, views of the stage from your seat, photos of you and your loved ones after the ceremony… Whatever images you wish to capture from your special day, we would love to see them and share on our Twitter and Instagram channels.
Simply tag @studyucem using the #BuiltForSuccess and #UCEMGraduation hashtags and we will share to capture the spirit of the day!
COVID requirements for entry
As touched upon in the introduction, the day will be a little different to past ceremonies due to COVID-19. To ensure entry into Reading Town Hall, we require all guests to provide either:
proof of double vaccination against COVID-19 (available through the NHS app, website or through your GP)
proof of a negative polymerase chain reaction (PCR) or lateral flow test (LFT) taken within 48 hours of the ceremony (information about how these can be obtained for free, can be found on the government's test order webpage)
proof of natural immunity shown by a positive PCR test result for COVID-19, lasting for 180 days from the date of the positive test and following completion of the self-isolation period.
Please note that children under the age of 12 are exempt from these requirements.
For information on how to access a COVID pass to show either of the three conditions above, please visit the relevant page of the NHS website.
Mask up!
Unless exempt, we request that all attendees wear a mask as a condition of entry. To assist with this request, we will be handing out UCEM-branded masks free of charge – a perfect memento capturing this moment in time!
'Doff your cap'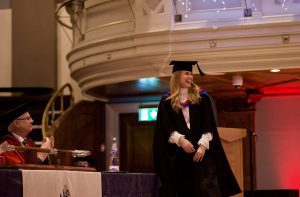 Another post-COVID alteration is that we are asking that instead of shaking hands with our Principal, Ashley Wheaton, when your name is called out, you 'doff' or touch your mortar board towards UCEM's staff members on the stage. Feel free to express yourself – at a safe distance!
Not pre-ordered your professional photo? Order on the day!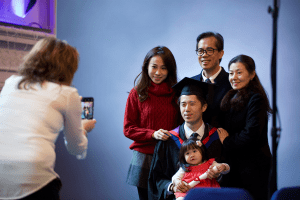 Ede & Ravenscroft will have their studio set up in the Victoria Hall and will be taking professional photos on the day. If you've already pre-ordered, we hope you've identified where your photo will take pride of place at home and if not, you can order on the day.
These photos have long been treasured by graduates and their family and friends, and we wouldn't want anyone to be disappointed by missing out on this opportunity!
Register with our Alumni Association
When leaving Reading Town Hall, we hope that doesn't end your association with UCEM. Completing your studies with UCEM means you join the 150,000+ UCEM alumni since we began training professionals in 1919.
Our international and alumni marketing assistant, Ekta Mirchandani-Khemlani, will be on the alumni stand just outside the Victoria Hall to help you register with our Alumni Association.
Why bother joining, you may ask? Well, with access to a range of networking, social and professional development events and seminars, 15% off UCEM Online Academy CPD courses, a careers support service for three years after Graduation, 10% off any UCEM postgraduate programme and dedicated groups on social media to stay in touch with your peers, it's well worth the effort! And if that doesn't convince you, then Ekta will be more than happy to discuss the benefits in greater detail with you!
Take home a memento
Want to take home more than a UCEM-branded mask? Our merchandise stand will be located outside The Concert Hall offering a range of goodies for you to take home and fondly remember your studies with us.
Food and drink
Sadly, we are not in a position to host a drinks reception after the ceremony but, with the town hall being in the centre of Reading, there are many options for continuing the celebrations nearby.
Plan your travel
We want your special day to be stress-free so plan how you intend to travel and where, if applicable, you are planning to park to ensure a smooth start to proceedings.
Print and bring your guestlist email!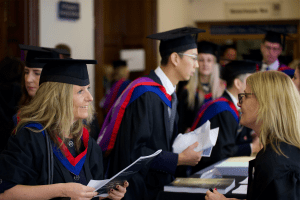 Our Graduation team sent out an email on 30 July confirming who is in your party for the ceremony. Please print this out and bring this to the venue ready for entry.
Check timings
You will have received communications from our graduation officer, Pru Sly, with further details about the day. Read this carefully and ensure you know exactly how the day will pan out. With two ceremonies in one day, it's a military operation behind the scenes and your cooperation will ensure that everything goes as planned.
Any problems on the day?
Should you have any problems on the day and need to contact members of the Graduation team, they can be reached by phone on 07496 838919.
Unable to attend? No problem!
Our media team will be live-streaming both Graduation ceremonies on the day so you can head to our YouTube channel to watch the whole event unfold.
We will also be posting photos on our Twitter and Instagram channels so there's no reason (barring alternative plans) why you or a family member or friend can't experience the joy of Graduation.
Have fun!
Most importantly, enjoy it. Graduation is the culmination of years of hard work, alongside your work and personal life, and this is your opportunity to celebrate this achievement with your peers.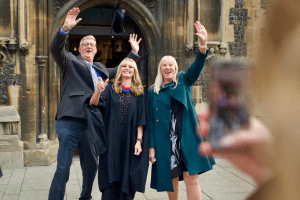 We look forward to seeing you all on Saturday!
#BuiltForSuccess #UCEMGraduation