Forging successful careers in construction: a family story
Posted on: 1 September, 2022
A common entry route into the built environment sector is through a family connection, and this is no different for the Solanki family. Less common, as in their case, is that it comes through a female role model and even more so from an ethnic minority. Anita Solanki, Head of Interfaces at EKFB (which is a civil engineering organisation tasked with delivering a 50-mile section of Britain's new high-speed railway), is bucking the trend and, here, we learn more about her career and the impact she had had on her two sons, Hemant and Vijay, to follow in her footsteps…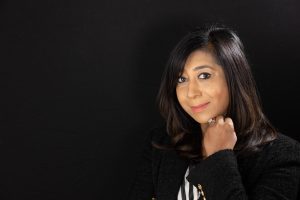 Anita Solanki
Anita is a second-generation Hindu of Indian heritage, born in Leicester and from a working-class background. She fell in love and married at 18 and had her first son, Hemant, at 21 and second, Vijay, at 24.
Anita, in her book about her life and career, How I Got Here, credits getting a job with a Midlands water company at 26 as the moment her 'life turned around'. From there, she worked her way up to managerial level in street works legislation before becoming Head of Street Works Policy at UK construction and infrastructure services company, Kier. Anita then transferred to infrastructure as Head of Interfaces for joint venture, EKFB, notably working on High Speed 2 (HS2) – a major high-speed railway line in the UK.
She has chaired regional and national committees and accrued plenty of awards along the way, as well as many prominent speaking opportunities. Clearly, Anita is someone to look up to in the construction industry and we got the thoughts of her two sons about their routes into the built environment and the impact their mother has had on them, with some thoughts from Anita too. Both Hemant and Vijay studied on our MSc Quantity Surveying programme, graduating in 2021. Hemant is a Quantity Surveyor at Balfour Beatty VINCI and Vijay is a Quantity Surveyor at EKFB.
UCEM: What did you initially want to be as children?
Hemant: As a child, after watching many American action movies, I would have liked to be in the LAPD [Los Angeles Police Department] or NYPD [New York City Police Department].
Vijay: For as long as I could remember, I wanted to be a pilot either for the RAF in a fighter jet or on the complete other side of the spectrum a pilot for commercial airlines. Passion for planes started at a very young age and I can remember one of my most played with toys was an airport set. I soon realised that the journey into this career path would have been very costly for both time and money, hence this never really took off(!).
UCEM: When did you first become aware of the built environment?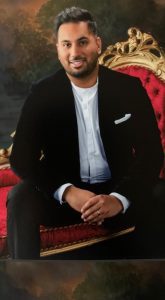 Hemant Solanki
Hemant: Pretty late in life to be fair – just as I was finishing college/about to start university for my BA (Hons). Being from an Asian background, there is always the expectations of your kids to become a doctor, lawyer or accountant – something in a professional, recognisable and reputable field which is impressive to the family and extended relatives. So I was focused on my studies first before anything else to ensure I was able to enter in to such careers.
Vijay: In my early years, I had a very keen interest in construction. I enjoyed playing with toy cranes, diggers, building with Lego and K'Nex. As a child, when in the car, I'm sure I used to distract my parents from driving with my many questions and observations of things being built or every time we drove past a piece of plant, especially, and most excitingly, the 40-tonne dump trucks.
In Leicestershire, there are a few quarries and at primary school we got to visit the granite one being ran by Lafarge, now Tarmac, in Mountsorrel. At this age I had no idea I would have a job in construction later in life.
I didn't know a lot about construction and the built environment and throughout school and college, I pursued a more business-focused path as this turned out to be one of my stronger subjects. My father began his career within the financial services as a mortgage advisor which did spark a lot of interest.
During my early teenage years, I was more aware of what sector my mum (Anita) was involved in and understood the deeper side of utilities when she was at Severn Trent Water. I had a lot of respect for those involved as water provided directly to our homes is something we very much take for granted, especially when understanding the infrastructure requirements involved not just to have it but to also ensure it is safe.
Often people in school used to say that water should be free as a human right. I used to think about that a lot and realised it can be if they were willing. Nothing was stopping them from collecting it, cleaning/filtering/treating it to ensure it is safe for consumption and then also having as much as necessary every day to live comfortably and have clean water available at every tap in the house. Sounded like too much? That's where the appreciation and realisation came in for what those in the utilities sector provided.
UCEM: So, how did you end up pursuing a career in quantity surveying?
Hemant: Seeing my mother climb up the ranks, becoming very successful initially through working in the water industry. This made me see that you don't just have to be a doctor, lawyer or accountant to live a successful life.
Vijay: I finished university with a First Class degree with Honours in Business and Management. I was quite shocked with myself and quite overwhelmed with my accomplishment as I wasn't too sure I saw myself as much of an academic, especially as I enjoyed being more hands-on in a practical manner with my tasks and learning.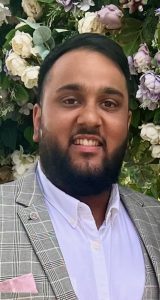 Vijay Solanki
Learning methods aside, I was hoping to gain a career within a field linked to my degree and was on the search for one. While on the transition from working in retail during my university years to a career more in line with my studies post-graduation, my mum was working at Kier and was involved with the initial stages of the HS2 project between London and Birmingham. She mentioned to me that there was a shortage of quantity surveyors and that I should investigate it as a career.
UCEM: Anita, did you speak to Hemant and Vijay much about the built environment prior to their entry into the sector?
Anita: They were not sure about the path to take after their business management degree. Hemant was working as an Estate Agent and Vijay started at Severn Trent call centre. Knowing where I worked and me talking about QS roles as a career made them consider that path more seriously.
UCEM: How then, Hemant and Vijay, would you reflect on the influence Anita has had on your career paths?
Hemant: Huge influence. Especially as had she have never mentioned about quantity surveying, I'm not sure what I would be doing. I wouldn't be as successful as I am today. Thanks to her hard work and reputation, it has been quite a significant factor in the foundation to becoming what I am today.
Vijay: I almost didn't pay attention to what mum was saying when she put the idea of being a quantity surveyor forward as I never heard of the profession before. At the time she mentioned this, Hemant had just stepped into an opportunity as an Assistant QS with Kier. I decided to look up the role online to research it further.
Mum has a good reputation within Kier, as well as the wider industry, and it was clear that this was also down to her thorough work ethic and effort. When you look at senior levels of construction companies' leadership, even today it is understandable why it would have been a challenge for a woman in construction to climb the ranks, let alone also coming from a minority background. I applied and was successful after a thorough assessment day in gaining a place on a Graduate Scheme to join Kier on the Highways division.
UCEM: So, having decided to pursue a career in quantity surveying, you both studied with us on our MSc Quantity Surveying programme. How did you find that?
Hemant: It was quite the challenge. It's not studying as a carefree 20-year-old where most of my time can be focused on studying. Instead, many life developments were taking place at the time: studying after a near-11 hours per day full-time job, being in the very early years of my marriage, purchasing and moving into our first home and then having a son on the way.
With all this happening in the background, it was all nearly coming to an end eventually. Then I had one bad module which was going to determine whether I passed or failed my Masters. I wasn't happy. For the first time in my life, I deferred a module. I'd never taken a study break before but this time round, with everything going on, I guess this is what I really needed.
Vijay: My studies with UCEM stretched me but were also very fulfilling. When I joined Kier on the highways project for smart motorways as a Graduate QS, I was eager to get stuck in and develop as much as possible. I was working full-time and studying.
The toughest part was when the weather was great outside but I had an upcoming assignment deadline. The job itself required a lot of me, however, I had a great line manager who always gave me a good couple of study days when he knew I had deadlines coming up.
Working alongside my studies was useful as there would be topics covered which I would put into action at work. Most of the final year of my studies were during the lockdown which created its own challenges, however, at this time, I also had the ability to work from home which helped a lot as it gave me more time in the evenings.
I also bought a house with my fiancée which was a busy time as I was also submitting my final project piece at the time. The UCEM staff were always helpful and the tutors full of knowledge.
I believe that studying online with UCEM is the most practical method of gaining an industry-related degree; in my instance, the MSc in Quantity Surveying. I believe it so much so that I encouraged my fiancée who recently started on HS2 as a Trainee QS to develop her qualifications through the UCEM route too.
Developing and gaining a Master's degree through UCEM was also the path my brother went on and he started a year before I did. He deferred his final year as he welcomed his first child during lockdown and this meant that we completed our final year together finishing in June 2021 and graduating together a year later.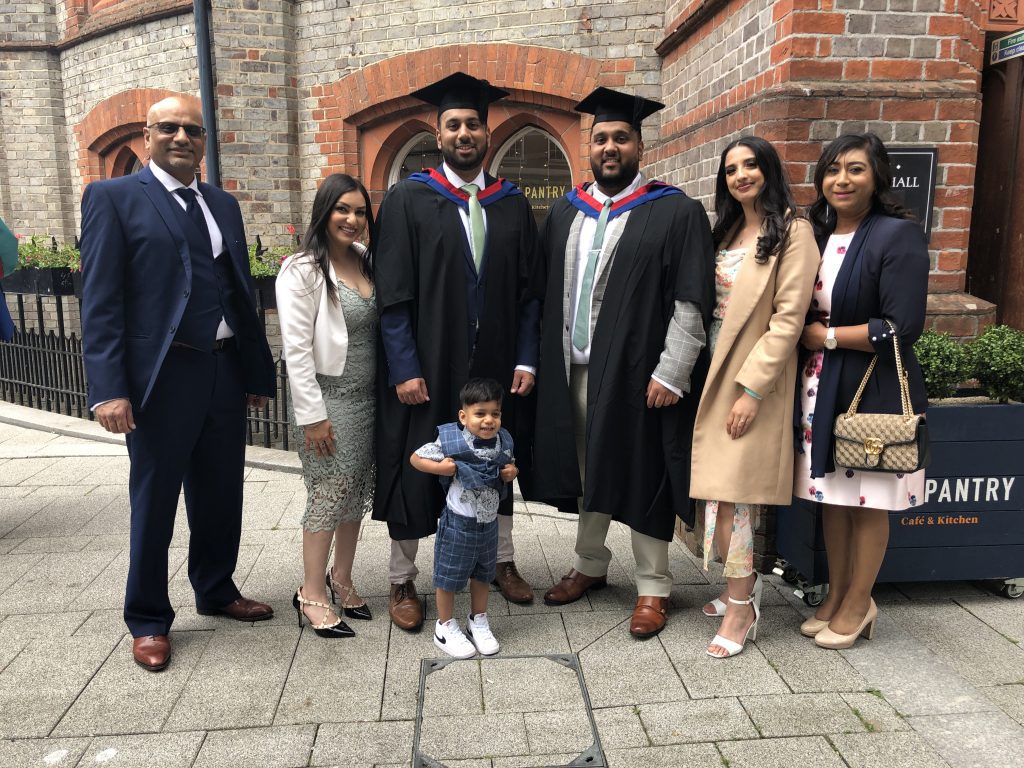 Hemant, Vijay, Anita and other family members at UCEM's Graduation in June
UCEM: What are your future ambitions in the sector?
Hemant: I've just been promoted which was the first plan! Now the ambition is to climb up to the next level and ensure I am well rounded within the field/sector. I'm now looking into the idea of becoming chartered with the Chartered Institution of Civil Engineering Surveyors (ICES).
Vijay: Since moving on from Kier Highways to EKFB on HS2 in April 2021, I got promoted from Graduate Quantity Surveyor to Quantity Surveyor. Much of this is to do with the qualification gained with UCEM and experience gained throughout the 2.5 years where I was very much put through my paces on the Smart Motorway Scheme. Within the next couple of years, I hope to develop my knowledge and skills further towards Senior Quantity Surveyor and climb the commercial ranks thereon while seeking chartership with RICS.
UCEM: Anita, how does it make you feel seeing Hemant and Vijay follow in your footsteps?
Anita: Really proud. I never saw this happening, and they are so lucky that a company like Kier give them the platform to be successful.
UCEM: And Hemant and Vijay, what do you make of your mother's achievements in the sector?
Hemant: I'm very proud of Mum. Her success and achievements make me happy. I follow her work ethic. She is a very good example of working hard and living successfully. She has become quite famous in the built environment.
Vijay: Mum has come a long way in her career, and I still believe there is a lot more left in her to break some more barriers. She managed to set the foundations of her career whilst my brother and I were very young which would have been a huge challenge in itself.
The rewards she has gained and help the companies gain in the industry have been because of a lot of very early mornings and late nights ensuring she had completed her work to the best of her ability, and growing up, she still ensured she was there for my brother and I at every moment we needed her.
Her influence is clear as there are many companies who want her on their team because of the many years of experience and reputation she has built for company success, but she has always remained family-oriented and won't choose a job if it means she will be away from the family for longer than a few days at a time.
I appreciate the sacrifices she has made to ensure that my brother and I always had support and family presence growing up.
Thank you, Anita, Hemant and Vijay for sharing your story!
To learn more about our MSc Quantity Surveying programme, head to our MSc Quantity Surveying webpage.
If you would like to share your story for the UCEM website, email press@ucem.ac.uk and a member of our team will get back to you.
To take a look at current vacancies at EKFB, head to the organisation's careers webpage.