Focus on our centenary: Volunteering at Courage Park
Posted on: 22 August, 2019
Our third Reading-based centenary volunteering event (following the initiatives at Purley Park Trust and Launchpad's allotment) saw 50 UCEM employees head to Courage Park in Coley to clean up its woodlands.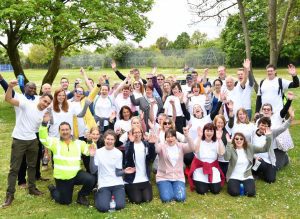 PR and Communications Officer, Andrew Belt, was one of the volunteers on the day and he provides an account of the day and his reflections below.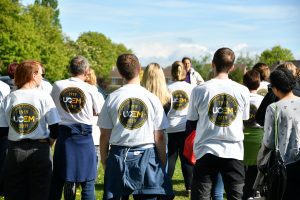 I chose to get involved in this volunteering activity as I thought it would make a nice change to ditch the office for outdoor work for a day and thought it would be satisfying to see what difference we could make to the park. Fortunately, there was no rain as we arrived at the park and were greeted by the volunteer leads from Reading Borough Council in a gazebo where we made our cups of teas and coffee and ate some biscuits ready for the day ahead.
We were then briefed about the project and what was expected of us. We were told that in over 20 years of running similar events, ours was the single largest group for one of their volunteering days – breaking records before we'd begun! We were given gloves and asked to select our weapon of choice from the assembled box of clippers, litter-pickers and saws. Once shown to our work station, we got stuck in, sawing away, clipping overgrown stalks and chucking away any rubbish found. This was an education for me as I sought confirmation of what was and wasn't fit for sawing. The volunteer leads and Stephen Bartle (UCEM Director of Commercial and Business Development) assisted me with identifying suitable targets for the chop!
I learnt that I enjoyed sawing and eagerly got stuck in, though energy levels after a couple of hours started to dip and I realised that it had been a while since I'd been to the gym… Our team worked well together, creating neat piles of chopped branches and leaves with plenty of room for people to walk through the woodland.
After a productive morning's work, we stopped for lunch and a much-needed caffeine boost. Among the discarded items found in the woodland were a few footballs and I asked if anyone fancied a game in the park's sports cage. Most colleagues were content eating their lunch and socialising but a few were up for a kickabout with Sam Jolley (Business Development Executive), Afolabi Dania (MSc Construction Management Programme Leader) and I spending a frustrating 30 minutes attempting to get the ball into the basketball hoop without using our hands. Like schoolkids in a playground, we were called back for the afternoon session, despondent in our failure at achieving our aim but as Afolabi and I turned to return, Sam calmly slotted the ball through the hoop. We agreed we would claim it was a team goal if anyone asked – whoops!
Last dibs on selecting my gardening instrument meant I'd lost out on reclaiming my saw so this time, it was clippers I took as our team went in pursuit of finding a new patch of land to tidy up. We set about continuing with the same energy we'd had in the morning, though a little more tired now, and I attempted to muster as much enthusiasm for clipping overgrown branches and bushes but it just wasn't as satisfying as the sawing I'd done in the morning. Before long, there was less and less woodland needing attention and volunteers dispersed in search of work. The gnarliest diseased tree and thick hedge were left until last – David Hourihan (MSc Real Estate Programme Leader) attacking the former with the largest saw (so that's where it went!) and a large number of us doing our best with trimmers on the latter.
Time was called by the volunteer leads who thanked us for our efforts and invited us to walk through the woodland to see what we had achieved. Many hands make light work is a commonly used English idiom and the volunteering at Courage Park was living proof of its meaning. I thoroughly enjoyed my day out of the office and working with such a large group of colleagues to improve an important focal point of the local community. I hope our efforts were appreciated by its users though I dare say that another tidy-up will not be long coming. As positive a day as it was, it was shocking to see the amount of waste dumped there. It was great to make a positive difference to the park but we all need to be more vigilant with our relationship with waste so less work is needed to maintain the beauty of our public spaces. As such, it was an educational experience too and I think the volunteering activity is a great way to mark our centenary and highlight how we, as UCEM employees, are able to take advantage of one paid charity/community work day per year. I will look to do this going forwards. Anyone in the Reading area needing anything sawn??
So, why did we choose to volunteer at the park? Our Information Governance Manager, Lucy Roper, provides the lowdown about the day and her reflections on taking part below.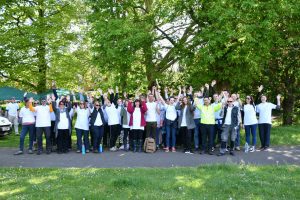 Background
About Reading Borough Council
Reading Borough Council is committed to preserving and improving the Borough's parks and open spaces for generations to come. They manage and maintain more than 100 parks and open spaces including five miles of riverside, children's playgrounds, ball games areas and skate parks, sports facilities (including football and cricket pitches, bowls greens and tennis courts) and 20 woodlands (four of which are Local Nature Reserves). Most parks have areas managed for nature conservation. They try to help ensure that Reading is a clean and green place to live and work by maintaining the verges, shrubs and hedges on public highways and other public open spaces. They also support Reading's entry into Britain in Bloom.
About the Project this volunteering day played a part in
The woodland and open spaces are managed by Reading Borough Council, which aims to ensure these areas remain welcoming, clean, safe, attractive and accessible for all those using them. It was a conservation project in line with the Parks Management Team and Friends of Groups ongoing programme of maintenance will find the team assisting within Courage Park woodlands.
The main tasks we undertook involved scrub bashing and coppicing within the woodlands area of Courage Park to enable these areas to be opened for all those that use the park. The debris from the coppicing was then stacked neatly to encourage wildlife. There were also a few other tasks such as removing ivy from several trees within the woodland area, as its dense growth can swamp other plants and control of this invasive species is often required. Lighter tasks included litter picking although the area has been somewhat neglected and larger items have been also been left proving to be unsightly.
Reflection
I thoroughly enjoyed the day, felt immensely proud of our achievements and would love to do more volunteering like this in the future. This great opportunity given to us through UCEM allowed us to give something back, make an impact on and provide positive changes to the local community in which I live.