Five reasons why online learning is the future
Posted on: 20 April, 2016
Since the world's first distance learning course was established in 1728, with programmes delivered by mail, alternative education has increasingly taken the world by storm. Today, the appeal for studying outside of the traditional classroom setting is becoming ever-greater, and since the dawn of the digital age education seems to be moving in one clear direction: online.
Online learning is popular across the globe for a long list of reasons, but in this blog we've narrowed it down to what we think are the top five.
Flexibility
Studying a programme online – from CPD to an MBA – means your classroom can be anywhere you want it to be. All you need is a computer and an internet connection. If you're working whilst studying, this gives you the flexibility of maintaining your education no matter where in the world your work takes you. As technology is often said to go hand in hand with globalisation, online learning is clearly the education forum of the future.
The learning environment
The online learning environment centres on a continual communication portal between students and the institution, and can hold a whole host of resources. At UCEM our Virtual Learning Environment (VLE) is an active, and lively forum in which students can engage with learning materials, their tutors, and each other at any time. Resources can be accessed 24/7 across all types of mobile devices, as well as desktops, and webinars are scheduled at varying times of day to suit different time zones. With online learning, everything you need truly is at your fingertips.
Study at your own pace
As the average student's attention span is apparently fifteen minutes at a time, the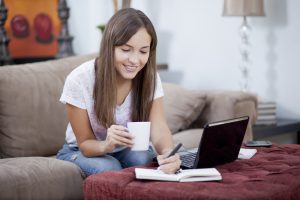 ideal learning environment should allow for these breaks in concentration. Online learning does just that – allowing you to pause and take breaks from lectures, or come back and revisit them at a more convenient time. With traditional university lectures lasting from 50 minutes to two hours, the benefit of being able to study at your own pace – with online learning – is invaluable.
The digital revolution
The move into the digital age is happening more rapidly than ever, and we're increasingly seeing practices – that would previously have been done in person or by hand – delivered online.
According to the latest 'Online Report Card' survey by Pearson – the world's leading learning company – in five years time 90 per cent of academic leaders believe the majority of college students will be taking at least one online course. And with technology transforming so many aspects of our life already, education is sure to follow.
A professional advantage
In the 21st century workplace more practices are moving online than ever before. Therefore, experience of working in a completely digital sphere can give you the edge when it comes to employment.
As reported by THE PIE, a session at a recent OBHE conference focused on 'The New Landscape of Higher Education' – and many attendees were keen to discuss how an online education affects employability. Rajay Naik, CEO (Europe) of Keypath Education commented; "Very often what [employers] say is 'When I see an online student, I regard those students as more desirable than face-to-face students, the reason being that I know what those students would have gone through to get their experience,'" he explained.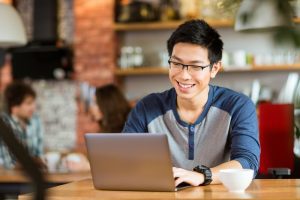 Naik added; "To do this alongside your family, alongside your work, takes incredible effort."
This adds yet another reason why online learning is becoming increasingly popular. You truly do get out what you put in, and the prospect of your success being entirely in your own hands can be daunting at first – but ultimately is a very rewarding experience.
Take a look at our student case studies for a flavour of what studying online feels like in practice.
Speaking on the topic of education in the future, Dr Anant Agarwal from the Massachusetts Institute of Technology recently commented; "Education will be unrecognisable within 10 years – not at the expense of lecturer's jobs, but simply by changing the way students on degree courses learn as well as by attracting a new online audience".
With the landscape of education changing year-on-year, the only certainty is that online learning is here to stay.
---
For more information on how UCEM can progress your career in the Built Environment through supported online learning, please visit our website or contact our enquiries team.
Take a look at the news of our recent e-learning award win, here.
You can also find us on Twitter, LinkedIn and Facebook – follow us for more industry insights and UCEM news.