Five minutes with… Lynne Downey
Posted on: 6 December, 2016
Continuing our 'Five minutes' blog series, we sat down with Lynne Downey – Dean, Online Education – to get to know a bit more about her background, areas of expertise and passions in and outside of online learning.
Tell us a little bit about your background… and fields of expertise?
I've always been interested in technology and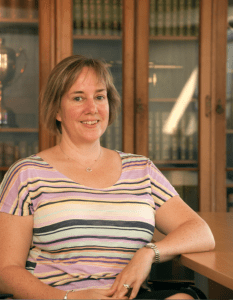 originally I started out a programmer. In fact, I was the first female computer games programmer in the UK. I've also had several project manager roles within IT software companies.
I entered the world of education with the Open University, as part of the Learning and Teaching Solutions unit – working with the Social Sciences Faculty to produce mixed media courses e.g. websites, software, audio, video and print. I was also an Associate Lecturer for the Open University on the Discovering Psychology course. And whilst at Elsevier I delivered the UK e-Education strategy, developing relationships with universities, colleges and commercial companies to create learning and teaching resources.
I joined UCEM in January 2014 as the College Academic Offer Programme Manager, to develop our academic programmes into a fully online offer. Then as Head of Online Learning I led the development of our learning content with a team of instructional designers, graphic designer, editors and content developers – and worked closely with the academic staff to provide engaging learning material for our students. I recently joined the Senior Leadership Team – as Dean, Online Education – where I hope to have more opportunities to add increased impetus to our online leadership ambitions. 
What are your qualifications?
I've got over 12 years' experience in online education and 20+ years in technology and project management. I originally studied a BSc in Information technology and then furthered my education with an Honors Degree in Psychology – in addition, I'm currently completing a Masters in Online & Distance education. I'm also an Associated Member of Learning Technologies.
Within your industry, what interests you the most?
Online education is my particular area of expertise, and I regularly get involved in industry thought leadership for UCEM around this topic. I'm also extremely passionate about open access education and lifelong learning – as well as encouraging women in IT. I feel very strongly about driving forward new developments and innovation, both in education and technology.
What else are you passionate about?
I seem to always be involved with technology even when I'm off duty. I love science fiction (and fantasy) books, films and TV series–– and enjoy anything that's a good story and provides escapism. I'm currently reading The Circle by Dave Eggers and enjoying the latest series of Humans.
What are your goals for the future?
I'm still very excited about growing and developing online learning – and not just at UCEM but for the industry as a whole. There continues to be some misunderstandings about what it can deliver and my aim is to dispel these myths. I'm very proud we won bronze for 'best online distance-learning programme' at last year's Learning Technologies Awards (formerly the E-Learning Awards) – and this year we were shortlisted for 'best blended learning project'! It's important to be continually innovating for tomorrow, and that's certainly my biggest goal.
What advice do you have for students considering starting or furthering a career within the Built Environment?
It's a fantastic industry to be a part of and is continually evolving. In terms of advice, I would say it's highly important to keep up to date with the latest technology and be aware of the next trends on the horizon.
Keep an eye on our blog for more insights from staff members in the next edition of 'Five minutes with…' and make sure to stay in touch with us on Twitter, Facebook and LinkedIn.