Five minutes with… Jane Fawkes
Posted on: 13 December, 2016
The next edition in our 'Five minutes with…' blog series features Jane Fawkes, Deputy CEO and Vice Principal: Strategy and Business Management at UCEM. In this blog, Jane shares an insight into her background and current role at UCEM – as well as some advice for students considering online learning.  
Tell us a little bit about your background… and fields of expertise?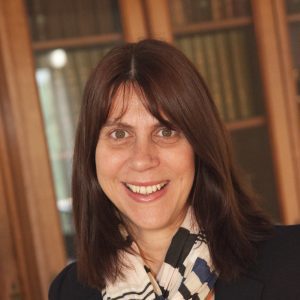 I've dedicated a large portion of my career to UCEM, working in various areas from programme development to academic training and student services. My field of expertise is online learning, and in my current role I manage and drive UCEM's educational strategy and planning, making sure we're leading the way in online education for the Built Environment.
What are your qualifications?
I initially studied a B.A. in English Language and Literature at the University of Reading. When I realised my future career lay in education, I studied for a Certificate of Online Education and Training – and followed this with a PG Dip. in eLearning at the University of Edinburgh. I'm proud to be able to get involved with shaping the future of the industry, and I've published a number of papers on online learning.
Within your industry, what interests you the most?
In the world of education, the most important thing for me is to focus on supporting students as best we can and recognising that each student's situation is different. This particularly applies to our students at UCEM who are often balancing a career with further study. I'm also passionate about how we can use student data and learning analytics to improve the support we offer. I've recently been welcomed into the Higher Education Data Landscape Steering Group – a national body working to take a strategic view on the use of student data, which I'm very excited about.
What else are you passionate about?
In my spare time I love spending time with family and keeping active; I even like to run the occasional half marathon! I'm also a budding musician, after playing the flute for years I'm now also learning to play the piano.
What are your goals for the future?
I'm currently implementing a two-year strategy for UCEM that focuses on the principle, 'no student left behind'. I'm trying to make UCEM's offering even more personal for students so that each student is getting the most they can from their time with UCEM, and that the services they're delivered are tailored to their individual needs.
What advice do you have for students considering starting or furthering a career within the Built Environment?
It's really important to build a strong network of contacts in the industry. This can help when it comes to finding work opportunities, as well as for seeking advice or insights whilst you're growing your career. If you study with UCEM, you'll have access to a wide range of professionals in the industry through the strong online network of students and alumni, which is a real advantage. I'd also recommend anyone in the industry to strive for professional accreditation – and make sure to keep up to date with your subsequent CPD requirements! It will really open up a lot of opportunities and allow you to take your career wherever you want to go.
Keep an eye on our blog for more insights from staff members in the next edition of 'Five minutes with…' and make sure to stay in touch with us on Twitter, Facebook and LinkedIn.