Driving sustainability in the built environment: whose responsibility?
Posted on: 26 April, 2021
Legislators hold the most responsibility in driving sustainability in the built environment. This was the conclusion arrived at by our new first-year students during a lively sustainability debate.
The 'Built for Life – Sustainability' event was held as part of UCEM's Welcome Programme – essentially, our version of Freshers' Week with plenty of webinars designed to introduce students to one another and provide information about the many different faces of studying with UCEM before students begin their formal studies.
The webinar, held last month, was open to all UCEM students, alumni and staff, and was the most popular Welcome Programme event with 98 attendees.
The session was structured as a large-scale debate. With this year's United Nations (UN) Climate Change Conference (COP26) highlighting how the built environment can affect sustainability, four members of our academic team argued whether their area of interest held responsibility in improving sustainability in the sector.
Legislators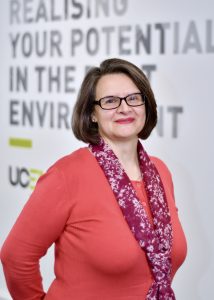 Hazel Lobo kicked off the panel discussion, arguing that sustainability should be the responsibility of legislators. She argued that sustainability is a global issue which, therefore, requires global solutions. The caveat, however, was that these should be implemented at a local level.
She posited that goodwill and public consensus can only take sustainable initiatives so far. A change in legislation will affect everyone involved. She reminded the attendees of the three pillars of sustainable development: economic, social and environmental, and claimed that the economy tends to be the ruling factor in forming most legislation. This can mean that legislators do not go far enough to bring major polluting industries into line.
Investors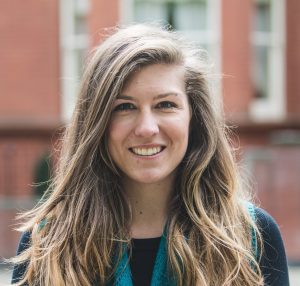 Natasha Collins then made the argument for investors. She noted the challenges for residential property investors surrounding energy performance certificate (EPC) ratings, and few incentives to improve the sustainability of their investments. In contrast, she noted there are more incentives for commercial property investors, who can use the sustainability of their buildings to attract tenants and charge higher rents.
Natasha concluded that more sustainable buildings result in higher property values, however, smaller-scale investors will require more guidance and support to adopt sustainable policies in their properties.
Contractors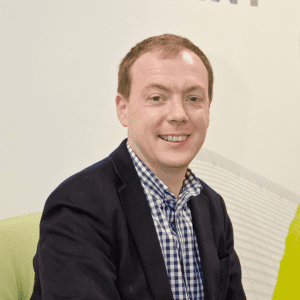 James Ritson followed, arguing that contractors should be responsible for sustainable development in the built environment. He stressed the need for an increase in responsibility in challenging the clients' requests.
James argued that existing buildings should be prioritised over new builds to ensure their sustainability, with a view to refurbish and re-use. He noted the example of 57 million square feet of unused office space in the UK, which could be put to better use.
Consumers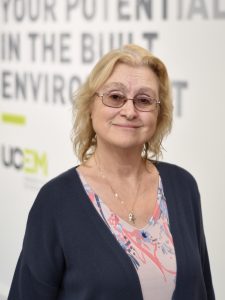 Janet Hontoir concluded the panel discussion by arguing for the responsibility of consumers. She explained that in order for any sustainable change in legislature to be effective, consumers would have to comply.
If consumers refuse to buy sustainable products, or do not use them properly, sustainability will not be carried out in practice. Consumers' choices and habits will inform supply and demand, pressuring manufacturers to create more sustainable products or change their practices.
Janet reminded the attendees that consumers are also constituents and can therefore vote for political change. She urged everyone to educate themselves on sustainability, so they can be more ethical and informed consumers.
Breakout rooms
Following this, attendees chose a breakout room to join based on the argument they supported. They took 20 minutes to discuss how their respective group could make changes resulting in a more sustainable built environment.
On return, they shared what they had discussed.
Legislators' responsibility to educate
The group focusing on legislators approached the discussion from the perspective of supporting people to improve their behaviour, instead of penalising poor practice. The group also agreed it is the legislature's responsibility to educate the population on good sustainability practice.
Investors' lobbying power
The group focusing on investors reported that they had been discussing the relationship between investors and consumers, and how consumers' choices will impact on investors. The group also noted the issues around fund managers, whose training has not changed a lot in decades. Investment companies have lobbying power, and therefore influence to make sustainable change.
Contractors' need to be inquisitive
The group focusing on contractors discussed carbon offsetting, and whether that investment could be applied to more sustainable infrastructure. They felt it was important to ask questions around why a project was being undertaken, and how it could contribute to a better future.
Education key for consumers
The group focusing on consumers made the point that no single group has sole responsibility in making the built environment more sustainable. The group noted that more sustainable products can often be more expensive, which prices them out of range for many consumers.
They also felt that conscious behaviour changes would help persuade change if certain less sustainable practices were no longer considered socially acceptable. They also stressed the importance of educating consumers to make more informed choices about the impact their choices can make on the environment.
The verdict
The final question asked all participants whose responsibility they felt it was to drive sustainable change. Overwhelmingly, participants felt legislators had the greatest responsibility to drive this change.
What can be done?
The session closed with participants sharing their thoughts and comments:
"I feel there needs to be a careful balance, where we have to find a balance of what is economically viable against what is good for the environment moving forwards!"
"Rapid change can be achieved if there is sufficient investment in technological advancements and ecological solutions. Maybe the income from the 'licence to pollute' could be ring-fenced and allocated to research and solutions to our environmental crisis."
"As collective action is needed, perhaps this reflects a need for a less individualistic society and a more 'community-based' mindset of social responsibility, as we have seen during the pandemic."
"The tax breaks on renovation matching that of new builds in my opinion would encourage renovation rather than knocking down and building!"
"[I would like] That developers are responsible for their houses and their impact on the environment beyond the point of sale and for legislators to make that both an expectation from society and a reality."
Do you agree? Or do you think responsibility for driving sustainability in the built environment is greatest from another source? If you'd like to get involved in the debate and share your thoughts, email our press team on press@ucem.ac.uk and we will look to publish responses on the website or on social media.