Construction techniques and technology: a guest blog featuring Dr Afolabi Dania, MSc Construction Management programme Leader at UCEM
Posted on: 31 May, 2018
In this latest guest blog, we speak with Dr Afolabi Dania about his background in the construction industry, the key topics he teaches throughout the MSc Construction Management programme and how this all helps build on the talent needed for a better Built Environment.
I graduated in Nigeria back in 2002, with an honours degree in Building Technology. After this, I went on to complete a Master's in Construction Management and also took up a lecturing position at the same institution in Nigeria. Alongside lecturing I worked part time as a freelance Construction Manager managing multiple exciting construction projects for private and commercial clients.
In 2010 I came to the UK to study for a PHD in Construction Management with an emphasis on sustainable construction at the University of Reading. I joined UCEM in 2016 as the Programme Leader for the Master's in Construction Management.
Construction Management is a discipline which largely oversees the construction phase of a building's life cycle up to practical completion and handover. The MSc Construction Management at UCEM is one of our suites of conversion Masters programmes which develops students with the knowledge, skills and competences required in managing the wide range of responsibilities undertaken by the construction manager. In an increasingly competitive and resource-hungry world, there is also a need to be innovative and have sustainability at the core of what we do. The MSc Construction Management programme at UCEM is designed to capture all this.
The programme consists of eight modules and is designed to run on the standard track of two modules per semester, over four semesters in two years. However, there is built in flexibility for students to pace themselves according to their individual circumstances. It also works very well for people in full time employment.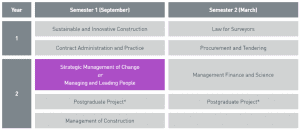 An overview of the programme can be found at here.
Sustainability and innovation
In the past few decades two major themes have become the focus of the construction industry: sustainability and innovation. Sustainability has arisen from concerns for the rate of depletion of the earth's resources, without recourse to the needs of future generations. Construction activities contribute significantly to a range of social and environmental problems and the onus was on the industry to innovate and become more responsible in the delivery of a sustainable and high-quality Built Environment.
Fast-forward 20 years and the industry has made great strides to improve its previously poor record, and drive innovative solutions, with the most modern forms and techniques of construction. One initiative, which has addressed both the sustainability and innovation concerns of the industry, is offsite and modular construction.
Offsite and modular construction
Offsite construction, simply put, is the manufacture and pre-assembly of construction components; elements or modules in a factory before installation into their final location. This form of construction came about as a result of a need to construct buildings faster and safer. Offsite construction offers numerous advantages over the more traditional forms of construction. Key benefits to offsite construction include;
Improved construction quality and product reliability: the use of mechanised processes and factory type conditions improves the quality, precision and ultimately the reliability of the building elements.
Shorter construction timelines: with the mechanised industrial processes, production of the building elements is much faster. The production of these elements can commence once the building design has been finalised and site preparation works are taking place. This approach speeds up the project delivery time and also eliminates some uncertainties that are common with more traditional methods.
Improved health and safety: factory like conditions are much safer than busy, labour intensive construction sites. It is easier to control and manage health and safety under these conditions, as the number of site tasks are reduced and less labour intensive.
Material efficiency: due to the factory-like production conditions, there is better utilisation of building raw materials and it is easier to reduce, reuse, recycle and ethically dispose of waste under these conditions. This links closely with sustainability as there are increased social and environmental benefits (reduced waste, more scope for recycling materials).
Lower costs: when life-cycle costs are factored in, the operational costs of the building are potentially lower as the building is likely to perform better in terms of thermal insulation; reducing the heating costs particularly in temperate regions.
Modular construction is a form of offsite construction in which the building elements are made in three-dimensional "modules" and shipped to site and assembled. Buildings reflect the identical design intent and specifications of the most sophisticated site-built facility.
Modular construction as a process is particularly useful today, in an era where resources are pressured and there is limited supply, meaning you need to do more with less. The benefits of modular construction align with the general benefits of offsite construction. However, the construction times can often be faster than other forms of offsite construction as they are often fitted with electrical circuitry, plumbing, heating and other finishes before leaving the factory.
The future
The future of construction is very bright and UCEM is a dedicated partner to the development of a responsible industry. At UCEM, sustainability and innovation is at the forefront of what we do – and this is exemplified by our recent move to our newly refurbished BREEAM (Building Research Establishment Environmental Assessment Method) rated 'Excellent' premises. This rating is the highest attained in the education sector.
In addition, our curriculum on the MSc Construction Management is designed to equip our students with the most relevant, up to date knowledge and critical thinking in order to be open to innovation when out in the field. Sustainability is a huge part of this, ensuring the Built Environment is fit for purpose and utilises as little resources as possible with maximum utility.
To keep updated on more of our news and blog topics, you can follow us on Twitter, Facebook and LinkedIn.