Centenary volunteering programme: Helping out at Cedar Court for Creative Support
Posted on: 1 November, 2019
Our final centenary volunteering event tipped the final number of UCEM employees who have joined in the programme to 100! How apt. 
Here, four of the 15 volunteers who went to help at Cedar Court – one of the supported living facilities operated by Creative Support, a charity which promotes the independence, inclusion and wellbeing of people with care and support needs – provide their feedback on the experience… 
Dr Tharindu Liyanagunawardena (Learning Technology Researcher) 
I had previously volunteered for The Link Visiting Scheme – an organisation based in Wokingham which pairs up volunteers with older people who need extra friendship and support, aiming to reduce loneliness and improve their wellbeing. Sadly, the friend I paired with for several years passed away and I couldn't make up my mind on whether to return or not as I was so emotionally involved. I decided to take a break and go back when I am ready. 
Since then, I have used the Volunteering Day offered by UCEM to run a lesson at a local primary school. When the opportunity came about to volunteer for Creative Support, however, I jumped at it. I selected an opportunity where it was possible to do arts, crafts, games and the like rather than physical work mainly because of my previous experience with The Link Visiting Scheme as I enjoy that type of interactivity more. 
So when I received the schedule for the day which outlined that we would be cleaning the patio, deck area and garden at Cedar Court, it was a little different to what I imagined! Thankfully it was sunny and I joined in with a few others with weeding. Though the garden is huge our team only had to do the patio/decking area which was manageable and only took us an hour-and-a-half to finish clearing the garden ready for winter. 
Next, we went inside to play games with the residents. Cedar Court provides housing to a wide variety of people, who have mental and physical health issues, learning disabilities and there are also elderly residents. It was fun playing games – I played Dominoes while others played card games, Jenga and Connect 4. After lunch we played six rounds of Bingo. It was my first time playing Bingo and on the last round I won the house. 
After Bingo, we could choose to paint nails, decorate gingerbread, paint pots or chat to the residents. The resident I was speaking to decided to paint so we sat beside each other painting our pots and chatting. It was lovely to hear how she had worked for a firm that produced tins for biscuit makers, Huntley & Palmers, how Reading had changed over the years and what activities they do at Cedar Court. I enjoyed painting the flower pots. 
After finishing decorating the pot, we planted Daffodil bulbs in them.  
In the Asian culture that I grew up in, going into residential care (even if it is a nursing home) is looked down upon. Offspring are expected to take care of their parents in their old age. I thought it could be isolating and boring to live in an assisted living accommodation.  
However, after experiencing what it's like at Cedar Court, it seems more like a house–share with some people needing extra assistance. According to the residents I spoke to, they have lot of activities going on to keep them occupied and they are happy there.  
Given that we are an aging society, it's likely we will be needing more assisted living accommodation to support our aging population. The residents very much appreciated us being there. I would definitely join another employee volunteering event if it were to be offered. I enjoyed the day very much. 
This is an edited version of Tharindu's account from the volunteering day. Head to http://openeducationmooc.blogspot.com/2019/10/volunteering-day-at-cedar-court.html for the full version. 
Sharon Douglas (Finance Officer)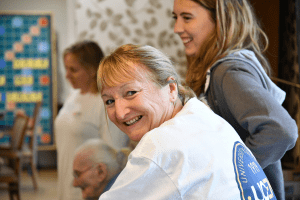 It was a really good day. I went home exhausted but definitely felt I'd achieved something. I was really pleased to do it. 
The day was split in two. The first half of the day was spent weeding the patio. It was a huge area and I wondered how we'd complete it, but we worked in teams and managed to get it done before lunch. It looked 100% better afterwards. The residents were really appreciative of that. They saw what a good job we did. 
We then played board games. The residents seemed to enjoy that, but some people preferred to sit and chat. We talked about different things and learned a lot from the residents. 
We had a game of Bingo and I was the Bingo caller. They told me I've got the job they were that impressed with my calling! It was really good fun. 
One of the residents used to be a tram driver and my father-in-law was a tram driver at Beamish Museum. He knew Beamish Museum and seemed really pleased to be able to speak to someone who knew what he was talking about. That was really lovely. 
Later, I recognised a voice. It was the mother of a girl I went to primary school with who was a dinner lady there. I recognised her voice 45 years later! She wanted to talk about the local area and what used to be there and what has changed. That was great and she asked me to go back and visit her. 
There was a large, welcoming communal living area. Residents could wander in as and when they pleased. 
I would do it again. It's great speaking to elderly people. They have so many memories from their lives and how different things were. It's worthwhile taking the time speaking to older people. 
Some of the volunteers were a little apprehensive about the volunteering but all enjoyed it. It meant a huge amount to the residents. 
It's a lovely set-up there and the residents look after it. 
Sally Head and Hannah Pollard (Student Guidance Officers) 
SH: I was Sharon's Bingo assistant, checking the numbers and handing out the prizes. It was quite competitive. Everyone seemed to enjoy it, including the volunteers. 
HP: I painted someone's nails and gave a hand massage. It's a nice facility. You can be as independent as you want to be there. 
SH: We were lucky it was a dry and sunny day! 
HP: The patio looked great after we finished. There were different age ranges – elderly people and younger people dealing with mental health issues. A couple there had been married for 62 years. There were a few 99-year-olds too. 
SH: It was well organised. It was good working with our colleagues as much as with the residents. 
HP: It was rewarding and enjoyable. It was nice to talk to everyone. I had never volunteered before but would do so again. Cedar Court was like a hotel. They are really well looked after. What I learnt from the day was the value of support and how important it is to look after those around you, no matter how different you may be. I enjoyed interacting with people you wouldn't usually do so on a daily basis. 
SH: The residents and volunteers were appreciative of the interaction. It was eye-opening.