Celebrating black history: Ranikqué's conversation starters
Posted on: 11 October, 2021
October is Black History Month, providing an opportunity to mark the celebration of people of African and Caribbean descent who have made outstanding contributions to society.
Last year, our diversity student ambassador, Ranikqué Hayden-Best, selected four inspirational people from history to mark the celebration month and we were so impressed with her efforts that we asked her to come up with some ideas for this year too!
Ranikqué, who is now a UCEM role model, has chosen four talking points where she has provided an anecdote and is asking for others to share their comments too. We will be sharing the four posts throughout October and ask you to get involved in the discussion on our Twitter, LinkedIn, Facebook and Instagram channels.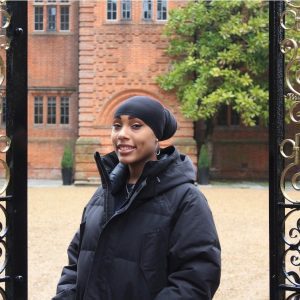 What do you think could be done to diversify the curriculum?
I believe universities can play a significant role in diversifying their subject areas. The similar things that we look for in a workplace can be translated to a university in terms of diversity. I believe diversifying the curriculum is an effective way to showcase how diverse subject areas – the built environment in UCEM's case – can be.
UCEM does a great job in showcasing the diversity of the built environment and I enjoyed my time as diversity student ambassador – a role in which I was able to engage with the institution and students to create an open discussion and drive change.
More, of course, can always be done and here are three ways I believe UCEM, as well as other institutions, could enhance its diversifying of the curriculum:
More people from diverse backgrounds presenting pre-recorded videos on the virtual learning environment (VLE)
A range of resources and teaching material for students to study that have been published people from a diverse background. This could include YouTube video links, study papers, books, etc. It could even be an idea to include some 'a day in the life of' videos early on in courses.
Have diverse teaching methods/strategies. Although individual diversity is important, it is also effective to have a wide range of teaching methods that cater for all learning styles.
Talent is found in every demographic. We need that representation or we miss out on that talent.
I would love to hear from you to learn how you think universities can diversify the curriculum. Please also share how universities have already taken action on some of these steps. I want to encourage you to be vocal about diversity – the more you talk, the more people will listen.
UCEM is currently accepting applications for a new diversity student ambassador and it would be amazing if you sent yours through. No matter your ethnicity, I am confident you will enjoy the role as I did. You can apply by clicking the link advertised on the VLE's homepage banner. If you would like to talk to me about this role, please get in touch via LinkedIn and I will be more than happy to help.
Fact of the week
With it being such a great month dedicated to highlighting our greatness and for paying respect to our heritage and history, I feel it is a wonderful opportunity to learn…
Martin Luther King Jr. What an inspiration. I was so impressed when I learned that some of the most iconic parts of his 'I have a dream' speech were improvised. When he handed his speech to the press, the words 'I have a dream' were not included! Furthermore, did you know that he initially allocated five minutes for his speech that lasted approximately 17 minutes!
Now I said this is an opportunity to learn, and what I want to share with you is one of the things that I take from this.
When I first heard Martin Luther King Jr's speech, I felt inspired. I felt and heard his passion and pain, and I felt touched. His powerful words have stuck with me over the years. When I learned that he improvised some of the most inspiring words in history, the strength I felt when initially hearing his speech went to a whole new level.
One thing I have learned from Martin Luther King Jr is once you a passion, you have no limits. With courage and passion, you can quite literally make history. You have it within you to be great. All you have to do is find your greatness. You have it within you to be an inspiration to others. You just have to do your best.
Years later, Martin Luther King Jr is still inspiring so many people all over the world. I believe we all have greatness within us, and it's up to us to let our greatness shine. If there is one thing we all can take from this, let's be the change we want, let's lead by example, and let's be great and support greatness!
Is there a fact which inspires you? Why not share it by tagging UCEM on one of your social accounts, and I'd look forward to reading it!
Was there a time you doubted yourself and overcame this?
Believing in myself is something I am always working on. In all honesty, many times I feel like it really doesn't take much for me to doubt myself or my ability. I believe the first step to making a change is noticing that a change needs to be made. Once I can notice a change is needed, I feel like I am opening myself up to learning ways to better myself.
I remember this one time I was a few weeks into a new job as a quantity surveyor. I had this rather harsh email I had to send out to a contractor but I was new so they didn't know me and I only knew so much about them. To cut a long story short, I composed my email starting with introducing myself and then pretty much getting straight to the point.
Now, I am someone that believes in not being afraid to be yourself. If you are true to yourself and doing your best, you can't lose (at least that's my belief). I mean this when I say it…the email I composed was completely ridiculed, shredded to pieces, scrapped. My director was over my shoulder absolutely tearing this email to bits because he said it was no good and I 'need to be feared' as a QS.
For a moment, I totally doubted myself and for a second I thought 'oh my, is it that bad?' Let me not forget to mention that this all took place in the middle of the office at a time when pretty much everyone was at their desks. Embarrassment and self-doubt are an understatement.
After being talked through how to change each of my sentences, I was told to take the email home and do the final touch-ups. When I was driving home, I was reflecting back on my emails and communications as a QS over the years and it came to me – I don't want to be feared. I endeavour to be respected, and in more cases than not, in order to be respected, you have to give respect. I saved my initial email to look over it later that evening and I had both emails side-by-side. One sounded like a respectful professional, the other read very cold.
It was at that moment that I realised I need to believe in myself and my ability more. I am more than capable to compose an email that addresses what needs addressing whilst being respectful. I have since adjusted my few affirmations to embed this mindset and belief within myself.
I believe you can be professional, respected and not messed about all at the same time and I believe that is what makes me who I am. I would really love to hear from you about a time when you doubted yourself and how you overcame it. Do you have any affirmations that you would like to share with us?
What are you most proud of?
I am proud of my mental development journey and my connection with my inner self and nature. This is a journey that I believe is ongoing. There is always so much to learn and so many ways to further my development. This development for me has improved my positive mental attitude and my relationship with my inner self. It has also contributed to me setting and achieving goals.
There is a wealth of knowledge and information on YouTube, in books and on courses that have assisted me on my personal journey. I have found that it is important to take what you learn and shape it so it applies to you. I feel more fulfilled, aware and grateful.
Mental health is important, how you feel within is important, noticing and understanding how you feel is important. It is also important to celebrate yourself. Why not let me know what you are proud of and what makes you celebrate you!
To find out more about Black History Month, including how to get involved, head to the organisation's webpage.