A case study: travelling to new heights – Raj Clair, Apprentice Chartered Surveyor at Colas
Posted on: 8 March, 2017
Apprenticeship Case Study – Raj Clair, Level 6 BSc (Hons) Quantity Surveying

At UCEM our sole focus is to enable talent to grow in the Built Environment, whether as a first time student or a seasoned professional. Ahead of National Apprenticeship Week 2017, we speak to one of our Chartered Surveyor apprentices Raj Clair from Colas Ltd, who is currently studying towards Level 6 BSc (Hons) Quantity Surveying. 
Raj's story

I've always been someone who has best learned by doing – learning the theory and then putting it into practice the very next day. To me, an apprenticeship was the logical next step after college, and I couldn't wait to begin.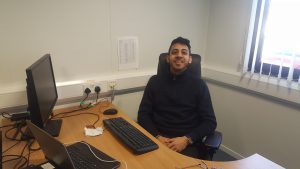 Whereas my friends and family were keen to encourage me to proceed down a traditional university route, I was intrigued by the idea of 'learning whilst doing', and building valuable work place experience at the same time.
I wanted to be part of something that would make a difference in the future, and the Built Environment sector was an obvious fit for me – It's exciting to be a part of work we're undertaking at Colas to support future travel infrastructure!
Finding the balance between working and studying is key to make an apprenticeship work and UCEM's online learning environment makes it so easy for me to access programme material around my role. I was unsure how I would adapt to online learning, following a classroom based approach but it's been really easy and I've not looked back since.
The programme material has been really engaging too, it's up to date with key industry challenges and movements and it's been great to share this insight with my colleagues. In fact, I've just recently finished a module in legal which I really enjoyed as I was able to apply some of my learnings to a real life situation at the time.
Six months into the role and no two days have been the same. I'm learning new aspects of the role each week, whether it be legal, commercial or strategically focused. There is always another challenge around the corner which keeps things fresh and interesting and ensures I am always learning. I also sit down regularly with Colas and my UCEM Apprenticeship Officer to ensure my development is on track which has been really useful.
I think there can be a common misconception on the value of an apprenticeship – it's certainly more than making cups of tea! At Colas, the people around me are always inviting me to work on new things and offering me a number of opportunities to be involved in different projects.
Whilst my family and friends were sceptical when I told them I'd made the decision to become an apprentice, they were quickly won over by the experience I was gaining at the same time, and how easily I could balance work aAnd study. I would recommend this route to anyone!
For more information on how UCEM can support your business in the hire and development of apprentices, click here, or find out more from Colas on the benefits of UCEM's flexible online learning delivery and how this suits both the student and employer needs.