A case study: Bound for the boardroom with a UCEM MBA – Jesse Meek, Regional Business Manager at Spectrum Property Care
Posted on: 14 February, 2017
Any area of business thrives on communication and collaboration, and the same can be said for studying, whether you are a first-time student or a recent graduate. We now have more than 150,000 alumni across the world and they all contribute to our alumni association – a hub for discussion, industry networking and new ideas.
In this blog post, UCEM former postgraduate and Regional Business Manager at Spectrum Property Care, Jesse Meek, shares how studying with UCEM allowed him to fast-track his development and how he remains in touch with the University now he has finished his recent MBA.
Jesse's Story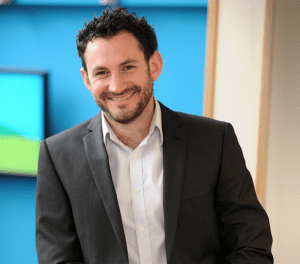 "My background in the Built Environment began twelve years ago. I started my career in new-build residential development, where I was loading out plasterboard to the tradespeople working on site. I knew early on I was interested in the Built Environment. My passion for hard graft was always there and with minimal qualifications and experience, I found the idea of progressing my career exciting. As I started to experience different building sites and understand different roles within these, I became more and more interested in how it all operates. In particular, I was keen to learn more about leadership, management and project based work, and the role these play in residential developments. This led me on to studying the Built Environment sector at an academic level.
Studying for an online distance degree whilst holding down a full-time career was challenging. It took time and commitment and a focus on the long-term goal. Each module I completed with UCEM opened up doors in my career, allowing me to propel into more senior managerial roles. I found the style and approach of online distance learning not only helped me learn the skills, but to put them into practice the very next day.
More recently, after completing my MBA in Real Estate and Construction Management I have been able to fast-track my personal and professional development, and I am now Regional Business Manager at Spectrum Property Care. Whilst hard work has taken me forward, learning along the way has shaped my career into what it is today.
Following my graduation from UCEM, I was automatically enrolled into the Alumni Network, a forum of collaboration and communication with fellow students. This has opened up great networking opportunities both on and offline, whether through an in-sector meet and greet, or via the online network where we will discuss new methods of work and practice. The network is a great way of building a physical connection with people that lasts, long after studying an online qualification. The network can also be used to seek out new career opportunities and contacts or to access training to keep up with the ever-changing requirements of the industry. A particular highlight for me was the opportunity to meet and speak with former RICS president, Louise Brooke-Smith, one of the most respected figureheads in the industry.
It's clear UCEM is very proud and supportive of their alumni. It's great to hear from past students who have gone on to some amazing careers and sharing this success across the community. As for me, I very much hope to continue taking the steps required to ensure I am 'bound for the board room!'
My biggest piece of advice for anyone looking to progress their career with academic study, is to do everything earlier than you think you need to do it. From day one of my career, I realised quickly how I could develop an incredibly lucrative career by combining academic study with practical experience. If I'm being honest – I didn't always start early – but when I did I got better results. If you are prepared to put the effort in you will get so much out of it.  The construction industry is a highly rewarding sector and the results of your hard work in the Built Environment can be amazing and hugely uplifting."
If you are a UCEM alumni looking to keep abreast with the latest sector news and scheduled events in your area, join our discussion on LinkedIn or if you have recently changed your contact details and would like to stay in touch, click here.