A case study: advancing my career in Surveying through an apprenticeship – Molly, Assistant Surveyor at Lambert Smith Hampton
Posted on: 3 March, 2017
Molly is currently in her first year as a Chartered degree apprentice studying BSc (Hons) Real Estate whilst working at Lambert Smith Hampton as an Assistant Surveyor. She tells us what being an apprentice is like for her.
Molly's story
Before I joined the apprenticeship scheme I spent two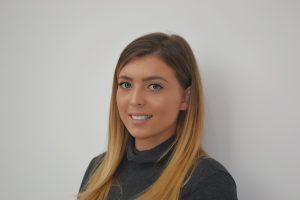 years working as a floor manager at All Saints retailers. Even though I enjoyed it I knew it wasn't a 'forever job' and I started to look for something that gave me that first step up the career ladder whilst giving me access to training. I had a general interest in property through my Dad who is in residential property but I didn't know anything about the commercial side. I organised a meeting with someone from Lambert Smith Hampton to see if I liked the sound of what they did. After that chat I was offered three days of work experience which I was delighted to accept.
Lambert Smith Hampton had previously employed an apprentice who had studied through UCEM. He told me lots about the university college which led me to start looking at options for studying with them. Lambert Smith Hampton were extremely supportive of me becoming an apprentice with them. After that it all happened very quickly, I started a full time job and then just two weeks later started studying at UCEM.
Starting an apprenticeship with UCEM was quite challenging at first as I was settling in at a new to the job in a new industry and studying at the same time. My first training day in Reading was quite daunting as I was the only person who was this new to the industry. Everyone else knew so much! Looking back now I realise how much I've learnt in such a short space of time and I'm so glad I started on this journey. My employer gives me one day a week to study which is really helpful for me to dedicate to my university work. It can be hard to juggle work and study and fit in a social life but I make the effort to find time for friends as I think it's really important. The only thing that's hard is prioritising an essay or revision over spending time with family and friends.
Online learning took a while to get used to as all of my textbooks are stored on my computer and I had to get used to using the Virtual Learning Environment. Now that I've got used to it I find it really easy to use, especially as new resources keep getting added by the Online Learning Team. I really enjoy the variety of webinars that my tutors put on and I've found the Student Services Team really helpful. If I've ever had a query they've always responded to me really quickly and their answers have been very useful.
Being an apprentice is great, I get to learn on the job and get a degree at the same time – everything I'm learning at UCEM gets put into context at work. I have made loads of new friends at work as my department is really sociable and hold quite a few networking events. I've met a lot of people who I would never normally have met and it's great! My family and friends are really happy for me – they say they'd recommend an apprenticeship to anyone although some of my friends are shocked that I work full time and am also studying for a degree.
If a friend asked me for advice about doing an apprenticeship I'd say do it! The opportunity to learn on the job is fantastic.
To find out how you can join an apprenticeship scheme, or to learn more about how an apprentice can help your business, click here.