Carl Wright – 2023 Winners
Posted on: 10 February, 2023
Assistant Quantity Surveyor, Solomons Europe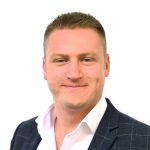 After a successful 9-year career in a niche area of data analytics, Carl had "hit a ceiling" and realised he wanted to move into a broader field with more opportunities for progression.
Having gained a degree in Geography 10 years earlier, Carl knew returning to university full-time wasn't a viable option, so he started investigating ways to re-train part-time while still earning a salary.
He began investigating quantity surveying as a career, and reached out to a friend on Linkedin who worked for Solomons Europe, sending him a CV in the hope that he might share a few tips. What actually came back was much more exciting: Carl's friend informed him that Solomons was about to launch an apprenticeship Masters programme in partnership with UCEM, and he encouraged Carl to apply.
Carl recognised that this was the perfect opportunity to make his career change. He could work, earn and upskill all at the same time, deploying the transferrable skills he had acquired through his previous career.
Now 15 months into his apprenticeship, Carl has been impressed with the quality of the teaching and feedback:
"The feedback's brilliant. It's all standardised, so every assignment feedback uses a rubric system of five or six assessment criteria. So, for each module, the assignment feedback is consistently measured against the same criteria, making it easier to follow, with the overall aim of improving going forward. UCEM want all students to do well in their studies, and the feedback for me has always been constructive and encouraging to strengthen those areas in order to achieve higher marks next time."
Many apprentices can find the work/life/study balance quite challenging, but this has been especially heightened for Carl, who became a Dad and moved house all while undertaking his MSc Apprenticeship.
In the words of his colleague, Victoria Clements: "Starting a new career, in a vastly different industry, whilst undertaking MSc qualifications and becoming a first time father has put Carl through his paces. Throughout, Carl has demonstrated his commitment and resilience, achieving high grades in his studies, acing recent APC competency sign offs and supporting his fellow apprentices with empathy, understanding and optimism."
Awarded Apprentice of the Year, it means a lot to Carl to be recognised both by his employer and UCEM "for the efforts I'm putting in to study, given the additional challenges. It makes me feel valued by UCEM and by Solomons."
2023 Winners >