'Breathing new life into old walls'
Posted on: 12 May, 2022
Our MSc Building Surveying programme leader, Dr James Ritson, presented his research on the carbon value of heritage at the 4th International Conference on Energy Efficiency in Historic Buildings (EEHB) last week.
More than 150 people attended, either in person or online, with attendees ranging from government policymakers to historic building experts and general built environment professionals to postgraduate students.
The conference made for an inspiring few days as those in positions of influence were able to share their ideas on how to reduce the carbon footprint of historic buildings without it being completely corrosive to their heritage.
Here, Dr Ritson, shares his takeaways from the conference…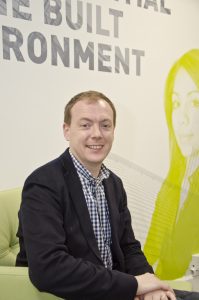 My research
My presentation was titled 'The carbon value of the UK's housing stock'. A key component of my research is my definition of something called 'the carbon value of heritage'.
It considers how much carbon emission from a dwelling can be reduced without it impacting on the heritage of the building. You take the carbon reduction target minus what you can do without impacting on the heritage of a building.

Dr Ritson's formula for the carbon value of heritage
Heritage is a finite resource. I call the changes which don't impact upon a building's heritage 'benign'. Benign changes are changes to the building that either have little or no effect on the heritage of the dwelling or damage the dwelling fabric, either to the fabric itself or the way it needs to perform or reacts. You can improve the energy efficiency of a building by up to 40% without damaging the heritage of the building. The question is: do we go further to improve the energy efficiency which would adversely impact on a building's heritage?
Implementing these changes to the UK's housing stock can bring about energy savings.
So, how could these changes be brought about? Do you use carbon taxation to invest in infrastructure?
I posit that making the benign changes is a cost-effective and heritage-friendly way of reducing a dwelling's carbon emissions. My research found that costs spiral significantly when you go beyond the changes which don't impact on the building's heritage.
Response to the research
My presentation was 20-minutes long and was followed by five minutes for questions.
One question I was asked was: why was I not pushing renewables when we are moving away from carbon? My argument was the cost-to-benefit is still not there yet. That was before the recent hike in energy prices which was constantly discussed at the conference.
My research can be applied across the historic housing stock – the minimum benchmark. The proposal benefits the introduction of renewables in the future. The work it does encourages compatibility with hydrogen energy. It's forward-looking – a baseline of what we can achieve.
One of the problems in the UK is that there are so many houses. To refurbish every pre-1919 house would require 425 refurbishments every day until 2050. Each refurbishment would take more than a day. Currently, that would cost between £40,000 and £80,000 per house to make that dwelling zero-carbon which equates to £300bn for the pre-1919 housing stock  – a huge amount of money to impact on a relatively small part of our total UK carbon emissions.
For the benign changes I propose, that's between £2,000-7,000 per dwelling. It's a more cost-effective way of reducing carbon. When we consider capacity , the UK still cannot build enough houses to meet demand as it is without the additional demand of whole building stock refurbishment.
I received extremely positive feedback to my presentation which was very pleasing.
Conference takeaway
Andrew Potts, a coordinator for the Climate Heritage Network and the International Council on Monuments and Sites' (ICOMOS) Climate Change and Heritage Working Group (CCHWG), said it best when declaring that the aim of the conference was 'to breathe new life into old walls'.
If I was to sum up the pervading mood of the conference in one word, it would be: urgency. This urgency has been sparked by COP26 [2021 United Nations Climate Change Conference].
The Paris Agreement [a legally binding international treaty on climate change agreed in 2016] aims to limit the increase in global warming to under 2 degrees Celsius by 2050. Even if this is achieved, there will still be a massive increase in flooding and the destruction of coral reefs. It would have a massive impact on our heritage. We must be careful not to model for the future without building for it. We need to make sure our buildings can deal with rising temperatures and extreme weather events as part of our building conservation and maintenance strategies.
The role of retrofitting and heritage experts in addressing climate change
Retrofitting has gone from being on the fringes of the built environment to being one of the biggest issues of the sector. It is now at the forefront of dealing with the existing built environment. There's the change in Ukraine leading to growth in oil and gas prices, which has led to a renewed interest in renewable and energy-efficient systems.
Another key takeaway was the importance of calculating the embodied carbon. By not using this, we could end up wasting already-used carbon. Andrew Potts also said: "When we are preserving our heritage, make sure we are preserving the right heritage." People still find it impossible to imagine a world without petrol or fossil fuels; however, many buildings and cities were built before we had mains gas and petrol. Understanding our past can help us inform the future in a good way.
Lessons for the UK
Many countries were represented with officials looking at initiatives to deal with their existing built environment. It's something the UK can learn from. A lot of the talks looked at how legislation has been enforced, like the EN standards implemented across Europe. One incentive being trialed in a town was anyone in that town with an EPC (energy performance certificate) got a free energy consultation with an expert to discuss the way the owner could improve the energy performance of their dwelling. We need to do more still in this country. Everyone was saying there was more we can do and we will do it.
There were government officials from Munich, Hamburg and Dublin – Dublin sent a policy writer and a building control professional – who were there to learn what they might want to put into their policies which could feed into their legislation. Experts who have spent their careers looking at how to deal with wall and ceiling insulation in heritage buildings found an audience with policymakers – a rare situation!
There weren't many UK planning departments in attendance but, fortunately, the conference themes will form a set of publications which will go on to its website and, hopefully, this may inform UK policy going forwards.
To learn more about the conference, visit its website.