Apprentice stories: Amy's first impressions of online learning
Posted on: 8 July, 2021
Amy Wightman is a graduate trainee at the the UK's leading mixed-tenure developer, Countryside Properties. She is studying on our Chartered Surveyor apprenticeship, completing our MSc Real Estate programme as part of her chosen Residential apprenticeship pathway.
Nearly two semesters into her studies with us, here, Amy shares her thoughts on our online learning model, having previously only experienced face-to-face learning…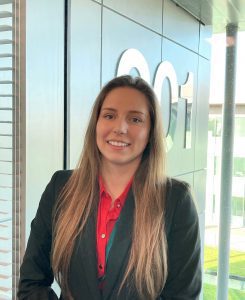 Prior to studying at UCEM, I completed a face-to-face undergraduate degree in an unrelated field. I enjoyed my experience of face-to-face teaching as I was able to network and build relationships with my peers and teaching staff. Because I enjoyed this style of teaching, I was nervous to join UCEM's Master's programme; however, my experience at UCEM has been surprisingly enjoyable (in comparison to what I was expecting: online reading with no contact with staff or peers).
UCEM synergises the benefits of online and face-to-face teaching through having an array of learning experiences, for example, through live webinars (that are recorded for those who cannot attend live, or if you wanted to re-watch the session), recommended readings, podcasts and activities. I enjoy learning through different means, and it's something I hadn't experienced in my undergraduate degree.
Something that really surprised me was the level of engagement I have had with other students and the teaching staff through the discussion forums and webinars.
The webinars present to me as a combination of a seminar and a lecture, whereby you're taught content and given real-world examples while being able to share your own opinions, experiences or ask any questions.
The forums are set up by the module leader to facilitate activity discussions and Q&As. We can talk about the activity, share any research and/or thoughts we have about the week's topic on the forum. The module team sets out its commitment to respond within two days to submissions but, in reality, it is much, much sooner! This helps with clarifying learning and building on the knowledge from the weekly learning activities.
Another obvious advantage of an online learning experience is that the learning can be carried out around my other commitments such as working full time, playing sports and seeing my friends. It's therefore very convenient for me and means I can still balance my Masters alongside my usual activities.
I would also like to add that the teaching staff have been brilliant so far, explaining complex things in a simple way and helping in any way they can, as they all want us to succeed and do well!
We are delighted that you are enjoying your online learning experience with us, Amy! Thanks for sharing your thoughts.
If you are a student, apprentice or alumnus/alumna and wish to share your story, please get in touch via press@ucem.ac.uk.
To find out more about our apprenticeships, head to our 'become an apprentice' webpage.