Alumni stories: Shelley's quantity surveying progress aided by two UCEM bursaries
Posted on: 28 June, 2021
We are committed to making our online learning programmes accessible to as wide a range of students as possible in our efforts to create a better built environment.
As part of this commitment, we offer a range of bursaries and scholarships to enable more people to study online with us. One such recipient is Shelley DeRaveneau who received two bursaries: one in 2009 for her Diploma in Surveying Practice and the other six years later when she began our BSc (Hons) Quantity Surveying programme.
Here, Shelley shares her story and explains how the bursaries helped her progress in her career…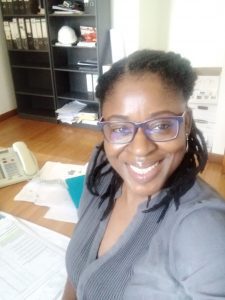 Start of my journey into the built environment
Growing up, I wanted to be a dentist. My career choice, however, drastically changed after attending high school and thereafter doing an associate degree in building technology at my local college.
I saw the construction industry as a large sector both locally and internationally which provides a wide range of job opportunities. It also lends itself to diversity in various career choices.
Studying with UCEM
Having started my journey in construction, I decided to pursue further formal qualifications. My work colleagues encouraged me to go with UCEM as they too had studied with the institution.
Applying for a bursary
To enable me to fulfil the programmes at UCEM, I applied and was successful in receiving a bursary for each of the courses I studied. The process of applying for a bursary was smooth. The application form and personal testimony were submitted to the bursary board for review and approval. Responses were usually given within a few weeks. On both occasions, I received 50% of the total cost of the courses.
The bursaries allowed me to successfully complete both courses without being left financially burdened with student loan debt.
Reflections on studying with UCEM
The experience with UCEM was extremely wonderful. The study materials were very thorough and gave a clear understanding of what the course was intending to teach. Online webinars and interactions with students also gave further support. The online platform also provided links to other web resources that aided in research.
Studying with UCEM allowed me to move from a trainee quantity surveyor to a junior quantity surveyor, and I am now a quantity surveyor within my company, TVA Project & Cost Management in Grenada.
It helped build my confidence where I am now able to take on jobs working alongside architects for clients outside of my current office.
Since studying with UCEM, I have recommended the university to other colleagues, some of whom have completed their studies, while others are currently in the middle of their studies with UCEM.
Advice for others
If you qualify for a bursary, I would strongly urge you to apply. The financial assistance offered to you through the bursary is an opportunity to achieve a goal that you wouldn't have been able to afford without it. If you are then successful, my advice would be to commit yourself to your studies. Treat every module, assignment, and exam with a level of seriousness in order to successfully complete the course.
What next?
I am currently doing several short CPD courses online and within the next six months, I will be starting my APC to attain MRICS status.
Thanks for sharing your story, Shelley, and good luck with the APC! To find out more about our bursaries and scholarships, head to our financial support webpage.