A Case Study: Unlocking my Potential as a Chartered Surveyor through a Level 6 Apprenticeship – Max Boxall, Apprentice Surveyor
Posted on: 16 March, 2016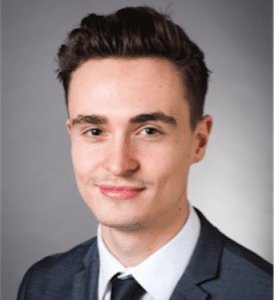 During National Apprenticeship week we're pleased to be sharing real life apprentice success stories. In the second of our apprentice case study blog posts, Apprentice Surveyor Max Boxall gives us an insight into his experience of studying a Chartered Surveyor level apprenticeship with UCEM whilst working at CBRE Ltd, and what this means for his career.
Max's story
Before I joined the apprenticeship scheme I was fairly undecided with where I wanted to take my career. After completing my GCSEs I studied plumbing for two years and then went on to become an estate agent, working mainly in lettings. It was at this point that I developed a real interest in the property industry and knew I wanted to explore more career options in this field. Property is such a diverse industry with so many roles, departments and fields you can work in, that there are many different paths you can take to build on your career.
My interest in surveying was also sparked by my stepdad who works as a surveyor himself. I was able to discuss the different occupations in the property industry he has encountered, and this made me realise surveying was what I wanted to focus on. I would advise anyone with an interest in the Built Environment to speak to someone inside the industry if they can, as this was invaluable for me.
After hearing about the apprenticeship scheme with CBRE, I knew I wanted to join straight away. The scheme allows me to gain practical experience in five different surveying departments which, combined with the theoretical knowledge gained from my UCEM BTEC and degree, will put me in a very strong position for the future.
I am currently three months into my studies, and enjoying the whole scheme so far. The support from UCEM means my workload is manageable and I am provided with every resource required to ensure I can complete my portfolio to the highest possible standard. Everything we study is fully applicable to real working life. For instance, my favourite module so far has been Sustainability, which has given me a good understanding on the property industry's role in environmental change. As CBRE has a strong focus on sustainable practice, my knowledge on the fundamental principles of sustainability has been hugely beneficial, particularly in my current role within asset services.
A day in the life of an Apprentice Surveyor could see me meeting clients or tenants, undertaking property inspections, or assisting with service charge budgets. Every day is different and I am exposed to so much of the market. After working as an apprentice I will have gained hands-on experience and learned from a range of different professionals, alongside learning from the tutors at UCEM. I will also have built up a wide network of contacts in the business. To me, the benefits of a company taking on an apprentice are clear to see.
To anyone considering joining an apprenticeship scheme, whether they are just leaving school or graduating from university, I would advise gaining as much work experience as possible. My previous roles and work experience positions gave me a true idea of where my strengths lie and what I wanted to achieve in the future.
Apprenticeships are often overlooked when it comes to someone looking for a means of progressing their career, however there are amazing opportunities and a huge variety of schemes out there that offer great future prospects. All you have to do is look for them.
To find out how you can join an apprenticeship scheme, or to learn more about how an apprentice can help your business, click here.