A case study: Building a career in the Built Environment – Kirsty Huxtable, Construction Project Manager
Posted on: 18 December, 2015
Whilst maintaining a full time career, Kirsty Huxtable recently studied with University College of Estate Management and will graduate this year with an MBA in Real Estate and Construction Management. Kirsty shares her personal experience of combining a career in construction with on-going postgraduate study, and where this may take her in the future.
Kirsty's Story
After recognising the potential of advancing my career in the Built Environment through education, I chose to study with UCEM due to its international recognition as a leading provider of professionally accredited construction sector qualifications.
The combination of live project work in my chosen industry alongside relevant academic course modules meant I had an enhanced understanding of both my professional work and educational studies. This gave me a unique perspective on the industry and allowed me to develop an extremely wide range of skills all at once.
My MBA covers a huge breadth of business topics, which has given me a deep understanding of the key principles of real estate and construction management. In turn, this has built my confidence in my professional ability on larger  projects. The course has also changed the way I think – I love mastering the challenges of analysing and synthesising new information every day. This has given me the ability to look at new projects and quickly and succinctly present information and identify process improvements.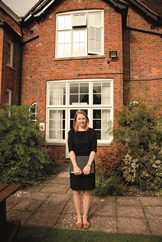 Postgraduate study alongside working full time professionally is undoubtedly a challenge, but thanks to the invaluable support of the UCEM staff at all levels of my degree, it is one in which I am extremely glad I took on board!
Kirsty is now Project Manager for Fordingbridge plc, UK, working on a wide range of sustainable building projects including the award winning first Net Zero Energy Costa Coffee and plans to finish her dissertation in April 2016. We are proud to have given her the tools and opportunity to progress her career.
For more information on how you too can study with UCEM to kick-start your career or further your professional development, please visit our website or contact our enquiries teams for more information on our programmes.
You can also find us on Twitter, LinkedIn and Facebook – follow us for more industry insights and UCEM news.