Biography
Dr Islam's teaching career started as an hourly paid lecturer at Salford Business School, the University of Salford, in 2014. Since then, she has taught accounting/finance and business management modules in the Higher Education sector. She has taught at different levels (4-7) and supervised undergraduate and postgraduate dissertations.
She is also involved in assessment authoring, module redesigning/development, moderation etc. This experience of working for a fully online university has made her more versatile in teaching in any learning environment.
Dr Islam is also quite interested in research. Her research skills have led to 6 refereed journal publications so far. All these publications are in highly reputable Q1 journals. These publications have come from her extensive national and international network, where she has participated in these significant research initiatives.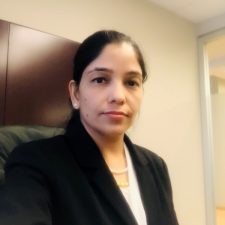 Qualifications and memberships
Teaching
Research interests
Industry
Qualifications
Within UCEM, Dr Islam supervises bachelor's and master's dissertations. She is also involved in tutoring, module leading, and deputy module leading.
Dr Islam is an active researcher and has published refereed journal articles in construction management, project management and IT management in some of the top journals in the world. She is very much interested in sustainable returns on investment. She is also actively working in sustainable accounting finance related areas in construction.
Dr Islam developed and conducted training programmes in project management for a range of clients in the Middle East and India.
Publications
Previous publications
Arif, M., Al Zubi, M., Gupta, A.D., Egbu, C., Walton, R.O., & Islam, R., (2017). Knowledge sharing maturity model for Jordanian construction sector. Engineering, Construction and Architectural Management, 24(1), pp.170-188 (Q1 Journal; H Index 41).
Sinha, A., Kumar, P., Rana, N. P., Islam, R., & Dwivedi, Y. K. (2017). Impact of internet of things (IoT) in disaster management: a task-technology fit perspective. Annals of Operations Research, 1-36. [Q1 Journal ABS 2015 – 3*; SNIP – 1.123; ISI Impact Factor – 1.406]
Shareef, M.A., Mukerji, B., Dwivedi, Y.K., Rana, N.P., and Islam, R.  (2019). Social Media Marketing: Comparative Effect of Advertisement Sources. Journal of Retailing and Consumer Services 46, 58-59. [Q1 Journal, ABS: 2*; ABDC: A; SNIP:1.745; CiteScore: 3.35]
Dwivedi, Y., Rana, N., Luthra, S., Mangla, S., Islam, R., Roderick, S., & Dwivedi, Y (2019). Barriers to the Development of Smart Cities in Indian Context. Information Systems Frontiers, 21(3) 503-525 (Q1 Journal H Index 51; ABS:3*, ABCD: A).
Baabdullah, A., Rana, N.P., Alalwan, A. A., Islam, R., Patil, P., Dwivedi, YK, (2018/2019) Consumer Adoption of Self-Service Technologies in the Context of Jordanian Banking Industry: Examining Moderating Role of Channel Types, Information Systems Management, (Accepted/Forthcoming) (Q1 Journal; H Index 51; ABS:2*, ABCD: B)
Obi, L., Arif, Mohammed; Awuzie, B., Islam, R., Gupta, A., and Walton, R., (2020), "Critical Success Factors For Cost Management In Public-Housing Projects" , Construction Innovation, Accepted/Forthcoming.
Academic Profiles
Go back to Academic Profiles