Biography
David Hourihan qualified as a chartered surveyor in 1994 while working in Ireland. There he specialised in the sales, lettings and acquisitions of commercial property in Dublin.
In 2002 David moved to England and worked for a number of nationwide and international property companies on the asset management of a variety of properties including shopping centres, retail and leisure parks, industrial estates and offices across the United Kingdom.
He is a former student of CEM (now UCEM) having achieved his Post-Graduate Diploma in Property Investment in 2002 and then the MSc Property Investment in 2008. In 2009 David joined as an associate tutor, became a full-time tutor in 2011 and is now the programme leader for MSc Real Estate.
Appointments
David currently holds a geographical seat for the UK and Ireland on the RICS Governing Council
David is an APC assessor/chair for the RICS and SCSI
He was an External Examiner for the BSc Auctioneering, Valuation & Estate Agency degree programme at the Technological University Dublin between 2017-2020
He was an External Adviser for the BSc (Hons) Real Estate and MSc Real Estate at Liverpool John Moores University in 2022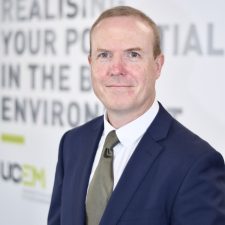 Qualifications and memberships
Teaching
Research interests
Industry
Qualifications
Memberships
David has previously taught a range of subjects at BSc and MSc levels, including:
Property Investment
Valuation
Property Asset Management
Property Agency
David's research interest lies in commercial property investment appraisal and performance management.
He has been on the steering group for the following Investment Property Forum (IPF) research projects:
2021 – Operational Real Estate: Risk and Reward 2021
2022 – The Size and Structure of the UK Property Market: End 2020
David has over fifteen years of industry experience in office agency, retail asset management and commercial property valuations in both Ireland and the United Kingdom.  During this time, he worked with several leading real estate firms such as JLL and Colliers International and other firms which have since been subsumed into international firms such as CBRE and Deloitte. Clients of David have included Societe Generale, Metzler Bank, Mobile Oil, Aviva, British Land and Scottish Widows.
He is a member of both the 'Education and CPD' standing committee and the 'Commercial Agency' Professional Group at the Society of Chartered Surveyors Ireland (SCSI).
He is a contributor/trainer at Bayfield Training on executive short commercial property investment webinars and courses. In 2021 and 2022 David ran a series of 'Introduction to Office Investment' webinars in which he and a guest speaker reviewed office investment dynamics in London, Paris, Lyon, Frankfurt, Hamburg and Dublin.
David has provided guest webinars for the École Supérieure des Professions Immobilières (ESPI), France and Northern Business School (NBS), Germany in 2021/2022.